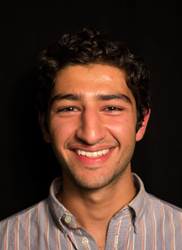 I feel more committed than ever to conduct research that will improve social policy in both countries.
Hunting Valley, OHio (PRWEB) February 03, 2015
University School alumnus Rahul Singh, a senior at Yale University, has been named a Marshall Scholar, one of the oldest and most prestigious academic awards for study in Great Britain.
Financed by the British government, the highly competitive scholarships provide an opportunity for American students who have demonstrated academic excellence and leadership to continue their studies for two to three years at a British university.
"I am deeply grateful for the scholarship, and I recognize that it's more than a vote of confidence from the UK government; it's a gift that signifies an ongoing project of cooperation between two democracies," Singh said. "I feel more committed than ever to conduct research that will improve social policy in both countries."
Singh, who graduated from University School in 2011, is an economics and mathematics major at Yale. He will pursue a Master of Science (MSc) degree in econometrics and mathematical economics at the London School of Economics, then a MSc in computational statistics and machine learning at University College London.
"The former is a famously rigorous program that has trained great economists from both the United Kingdom and the United States," Singh noted. "The latter is essentially unprecedented; economists currently do not study machine learning. Together, the degrees would equip me with unusually powerful data analysis tools to advance empirical social science and to direct policy."
A Heinz Government Service Fellow, Singh has conducted research at the President's Council of Economic Advisers, the Yale Department of Economics, and the Centre for Policy Research in New Delhi. He also has founded financial literacy programs in Cleveland and New Haven.
Founded in 1953 and named in honor of U.S. Secretary of State George C. Marshall, Marshall scholarships were established as a British gesture of thanks to the U.S. for the assistance received after World War II under the Marshall Plan.
About University School
Founded in 1890, University School is an independent day school, educating boys in kindergarten through grade 12. The school's mission is to inspire boys of promise to become young men of character who lead and serve. Our dedicated faculty, rigorous curriculum, and experiential programs foster intellectual, physical, creative, and moral excellence. University School is a diverse and inclusive community where each boy is known and loved.
University School maintains two campuses: the Shaker Heights Campus has 460 students in kindergarten through grade 8; the Hunting Valley Campus is home to 420 students in grades 9-12.