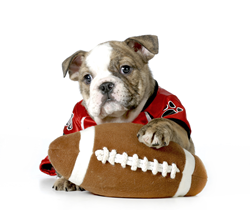 Brea, California (PRWEB) January 28, 2015
This year's Big Game has no clear favorite. Fresh off their first Super Bowl win in franchise history the Seahawks are looking to go back-to-back, while the Patriots are seeking to return the Vince Lombardi Trophy to New England after falling short in their last two appearances. While football analysts are focusing on each team's defensive and offensive strengths to predict a winner, Veterinary Pet Insurance Co. (VPI), the nation's first and largest provider of pet health insurance, has a much different way of forecasting a champion. VPI, a Nationwide company, analyzed its database of more than 525,000 insured pets to determine a victor based on pet name popularity. Below are the results:
Team (number of pets with that name in parentheses)
New England
Team Name: "Patriot" (13)
Quarterback: "Tom" Brady (594)
Head Coach: "Bill" Belichick (43)
Defensive Star: Darrelle "Revis" (9)
Legendary Player: "Tedy" Bruschi (1,598)
Mascot: "Pat" (4)
Total: 2,261
Seattle
Team Name: Sea "Hawk" (23)
Quarterback: Russell "Wilson" (307)
Head Coach: "Pete" Carroll (172)
Defensive Star: Richard "Sherman" (127)
Legendary Player: "Steve" Largent (82)
Mascot: "Blitz" (75)
Total: 786
According to "paw"pular opinion, the Patriots will emerge victorious in convincing fashion. The Seahawks will be no match for the pet loving communities' support of Patriots' quarterback "Tom" Brady and legendary great "Tedy" Bruschi.
As of late, VPI pet names have been a superb football indicator, correctly predicting the 2015 AFC and NFC championship games, as well as Ohio State's College Football National Playoff Championship win.
About Veterinary Pet Insurance
With more than 525,000 pets insured nationwide, Veterinary Pet Insurance Co./DVM Insurance Agency (VPI), a Nationwide company, is the first and largest pet health insurance provider in the United States. Since 1982, VPI has helped provide pet owners with peace of mind and is committed to being the trusted choice of America's pet lovers.
VPI plans cover dogs, cats, birds and exotic pets for multiple medical problems and conditions relating to accidents, illnesses and injuries. Wellness coverage for routine care is available for an additional premium. Medical plans are available in all 50 states and the District of Columbia. Additionally, one in three Fortune 500 companies offers VPI Pet Insurance as an employee benefit.
Insurance plans are offered and administered by Veterinary Pet Insurance Company in California and DVM Insurance Agency in all other states. Underwritten by Veterinary Pet Insurance Company (CA), Brea, CA, an A.M. Best A rated company (2013); National Casualty Company (all other states), Madison, WI, an A.M. Best A+ rated company (2014). Veterinary Pet Insurance, VPI and the cat/dog logo are service marks of Veterinary Pet Insurance Company. Pet owners can find VPI on Facebook or follow @VPI on Twitter. For more information about VPI, call 800-USA-PETS (800-872-7387) or visit petinsurance.com.