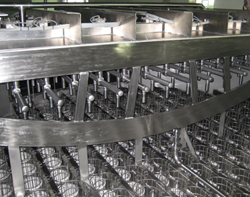 There is no other technology quite like the SANICIP™.
(PRWEB) January 27, 2015
This new validation means that food and dairy processors in the USA can buy the same market leading technology with the confidence that it exceeds all US industry requirements for sanitary operation and particulate emissions.
GEA is recognized as the global technology leader for this type of application. SANICIP™ is used widely for the collection of powder fines from dryer exhausts thereby improving yields and reducing the powder content of emissions to the atmosphere to below the required levels.
All the fines discharged from the bag filter are returned to the process. This means that virtually no powder is lost as waste, but sold as first-class product. Retrofits of old plants equipped with cyclones and traditional bag filters or wet scrubbers can now be done by replacing the old exhaust system with a SANICIP™ bag filter. Low-pressure drop across the bag filters means long bag life, reduced energy consumption and quiet operation.
Benefits of SANICIP™
The possibility to clean the entire system in place has many benefits for users. With standard bag filters the bags have to be taken down and replaced every three/twelve months depending on the application. Using a CIP-able system the number of bag changes can be reduced thereby saving material cost; downtime and labor costs are reduced; and there is much less opportunity for contamination to enter the sanitary systems as all cleaning operations are performed within a closed environment. The frequency and duration of the cleaning sequence can be adjusted to suit actual running conditions.
Steve Wright is Powder Technology Manager for GEA Process Technology Inc. in Hudson, WI. "It is a long process for the 3A approval and we thank our customers for their patience," he said. "There is no other technology quite like the SANICIP™ so we have already made plans to meet the anticipated demand from our US customers."
The first CIP-able SANICIP™ in the US is operational in a dairy facility producing milk powders. SANICIP™ installations have successfully been running in Canada for the past 10 years.