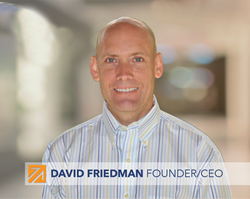 Culture can and always will happen organically, but unless you institutionalize it, and work at it, it's not likely to be the one you envisioned for your business.
Cherry Hill, N.J. (PRWEB) January 27, 2015
Corporate culture can be an ephemeral thing, as evidenced by countless mission and vision statements gathering dust throughout corporate America.
As most CEOs know all too well, it isn't enough just to have a clear vision for the kind of culture they want for their organization because without a structured framework to implement and sustain it, a company's culture usually takes on a life of its own.
"Culture can and always will happen organically, but unless you institutionalize it, and work at it, it's not likely to be the one you envisioned for your business," says David Friedman, an author, speaker, insurance industry veteran and business consultant. "Fortunately, there are practical steps to establishing and sustaining a high-performing culture."
To that end, Friedman has launched High Performing Culture, whose goal is to help organizations define their corporate culture, then implement it over the long-term.
Friedman knows this challenge first-hand, as the former president of RSI, a New Jersey-based employee benefits firm widely recognized for its unique corporate culture. Friedman's "fundamentals" and his system of "rituals" to reinforce them became the cornerstones of a corporate culture that helped RSI win countless awards for leadership and customer service, earn recognition from the Philadelphia Business Journal as one of the region's Best Places to Work for seven consecutive years, and make NJBIZ's roster of Fastest Growing Companies four times.
"In my experience, all the literature surrounding culture is too esoteric, complicated and filled with jargon. Our goal is to make it clear, practical and most importantly, actionable," says Friedman, who wrote Fundamentally Different, which describes the methods he developed to lead his own firm to success.
Culture, Friedman notes, has a significant and direct impact on how employees perform, and by extension, on a company's results. It represents one of the biggest opportunities companies have to create sustainable competitive advantage in a commoditized world.
"World class organizations are very intentional about how they drive their culture," says Friedman. "They're quite deliberate about defining the behaviors that will lead to success, clearly communicating those behaviors, then employing a system of rituals to deeply engrain those behaviors until they become part of a company's DNA."
"High Performing Culture takes the core principle of David's fundamentals to a whole new level," according to Sean Sweeney, chief marketing officer. "The 'Fundamentals System' employs a mix of traditional consulting with a suite of supporting products to deepen the level of employee engagement, automate the process of rituals, and provide management with meaningful data to substantiate results."
The cornerstone of High Performing Culture's product line is eMinder, the world's only fully automated culture-building tool. eMinder is a cloud-based reinforcement tool that deploys a weekly e-mailed message and a scenario-based lesson requiring employee input. It not only gives immediate feedback to the employee based on his or her response but also provides weekly reporting to company executives so they can measure employee engagement.
High Performing Culture helps companies create, drive, and maintain high performing cultures,
with a proven system that's straightforward, practical, and easy to use. Most importantly, it simply works. For more information about High Performing Culture, visit http://www.highperformingculture.com or call 877-HPC-5050 (877-472-5050).