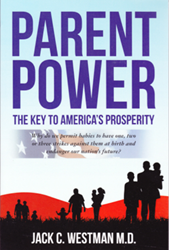 American society makes childrearing more difficult.
Madison, Wisconsin (PRWEB) January 30, 2015
A December 29, 2014, World Values Survey report supports Dr. Westman's theme in his book Parent Power that our society makes it difficult for parents to raise their children by describing the United States as high in "Self-Expression Values" and low in "Rational-Secular Values". The Survey concluded that Americans are devoted more to getting what they want than to cultivating virtues.
Because the two-year-old boy's father in Tampa did not break a Florida law, he was not charged with a civil or criminal offense, according to the January 22, 2015, Tampa Bay Times. Dr. Westman notes, "Certainly, everyone can readily sympathize with the father. But what about the young boy whose life was ended?"
In his book Parent Power: The Key To America's Prosperity, Dr. Jack Westman clearly demonstrates that parenthood is the foundation of any nation's economy and that parents shape their children's and the nation's future. In this case, a father had life and death power over his son by the way in which he handled a loaded gun. Dr. Westman adds, "Most importantly, the media's emphasis was on sympathy for the grieving father rather than on calling attention to this event as an example of the consequences of a society that fosters the possession of hand guns."
According to a study Everytown for Gun Safety reported on June 25, 2014, two children die every week from accidental shootings. Because the Tampa two-year-old's loss of life is not an isolated instance, Dr. Westman raises questions about why does the United States, unlike other developed nations, presume that life is so dangerous in our nation that an adult like his father needs to possess and carry concealable guns and to have a loaded gun in his car? These questions expose inconvenient truths about American society that Dr. Westman attributes to current social values.
In Parent Power, Dr. Westman explains why calling attention to the differences between American social and cultural values is more than an academic exercise. These differences help explain the inconsistencies and dilemmas of everyday life in America. They help explain the death of the Tampa toddler.
Dr Westman says, "Cultural values are expressed through long-standing traditions that inspired the Declaration of Independence and Constitution and that are encoded in laws. They evolved from higher brain center compassion and problem solving thinking. Social values express lower brain center emotions and reflect what is considered important in the present, such as personal comfort, wealth, competition, and the freedom to do as one wishes."
Dr. Westman notes, "Although the United States likes to think of itself as a model for the rest of the world, American society actually can be characterized as dehumanizing, materialistic, individualistic, erotogenic, and fascinated by violence." Dr. Westman points out that conscientious parents know this and must contend daily with these powerful influences on their children.
Dr. Westman calls attentio to the way American society dehumanizes homeless persons who live on the streets as if they were wild animals. In the winter on January 29, 2014, there were 777 homeless persons in comparatively affluent Madison Wisconsin. Of these, 94 were unsheltered outdoors, 11 of whom were veterans and 2 were a parent and child. According to Thomas Insel, director of the National Institute of Mental Health, the neglect of Americans with serious mental illnesses costs our nation $444 billion a year─mostly from lost earnings─and consigns millions to lives of suffering, addiction, homelessness, or incarceration. Our jails often place mentally ill offenders in solitary confinement, aggravating their already fragile states.
Dr. Westman notes, "Materialism is evident in the way the wealthy and celebrities are admired more than dedicated volunteers and professionals who serve the public. A person's worth as a human being is judged more by income than contributions to the common good."
Dr. Westman shows how individualism encouraged by commercial advertising is apparent in the self-centered way in which many live their lives without planning ahead and without considering the impact of their behavior on others.
Dr. Westman notes that erotogenic behavior is evident in the way erotic behavior and language is tolerated and enjoyed in public entertainment. Modesty no longer is seen as a desirable quality, and shame as a socially controlling value has virtually disappeared.
Dr. Westman observes, "Many Americans have become inured to daily news reports of violence and are fascinated by violent videos, games, and movies—the more and the louder the explosions the better."
Dr. Westman shows how these social values help explain why the United States leads developed nations in child abuse and neglect and trails them in educational achievement.
Dr. Westman notes that until these inconvenient truths are faced when events, such as the Tampa toddler's death, occur, American society will not reflect its underlying cultural values based on the common good and thereby support childrearing.