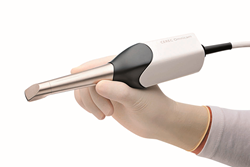 New York, NY (PRWEB) January 29, 2015
Going to the dentist can be time consuming, especially if a patient needs a crown. But new technology can reduce time in the chair.
Walk out with a new crown over lunchtime from start to finish thanks to the new digital-based technology now available to dentists.
Sharde Harvey, D.D.S, principal of New York-based Smiles Park Avenue Dental creates a 3D image of the damaged tooth using the on-site Serona CEREC system. Dr. Harvey uses CAD/CAM — computer-aided design and computer-aided manufacturing — to create a crown while a patient waits—usually taking no more than 90 minutes.
"Back in the day, the process of getting a crown often necessitated at least two visits with weeks between each one. First, the dentist numbed the area and drilled the tooth, filing it down to make room for the crown. Then, he or she made an impression of the tooth to send to a lab. The hole in the tooth was covered with a temporary filling while you waited for your crown," notes Dr. Harvey.
It arrived at the dentist's office two or three weeks later. The patient returned for another appointment. The dentist numbed the area, removed the temporary filling and glued the crown in place.
"Today the process is reduced to a lunchtime visit. No need for an impression tray," adds Dr. Harvey. The process starts the same way it used to: The area is numbed, and Dr. Harvey drills the tooth to shape it for the crown. But instead of making an impression of the tooth, she uses a tiny camera to create a digital image of the drilled tooth. A computer program uses that to construct a 3D image of what the tooth will look like with the ceramic crown in place.
Then all the details — the size and shape, the little ridges and indentations — are transmitted to a machine in an adjacent room that creates the crown from a solid piece of porcelain. The crown is then hand painted and shown to the patient. "Once completed, your new crown is glued into place. All during your lunch hour," explains Dr. Harvey.
For additional information go to http://www.SmilesParkAvenueDental.com
Contact:
Temi Sacks or Geena Pandolfi
tjsacks(at)tjsacks(dot)com
geena(at)tjsacks(dot)com
212-787-0787