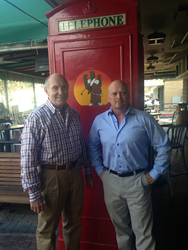 Glendale, AZ (PRWEB) January 27, 2015
Padre Murphy's Owner Tom Boyle in Glendale, AZis proud to be holding one of the premiere Super Bowl Parties. Padre Murphy's was chosen to be the location of a Super Bowl week event that will see the likes of over 30 confirmed NFL greats in attendance. Carl Eller, who will be debuting his new casino and Minnesota state lottery ticket game "Moose 81", will be personally inviting Larry Fitzgerald to the event which will be on January 28, 2015 at 7:00PM. Sponsors of the event will include Pro Player Health Alliance and Bud Light, who will be appearing with the Bud Light promo girls and illusionist and a chance to win the Bud Light Dune Buggy and flat screen T.V.s in a raffle.
RemZzzs, Carl Eller, who is the spokesman for RemZzzs and President of the Retired Players Association, and Pro Player Health Alliance have all come together to not only raise awareness of what has been labeled as the "Silent Killer," but to also offer ongoing support for the retired players and see them through the treatment process. Though many players are turning to oral appliance therapy as opposed to CPAP, for those who are required to wear CPAP due to the severity of their illness, Carl Eller and RemZzzs are offering a solution. The promo code "carl81" can be used on the RemZzzs website when ordering mask liners to receive a discount on their order.
The event will be open to the public. Pro Player Health Alliance invites anyone who is interested in playing Moose 81 to attend the Padre Murphy's event and meet NFL greats including Carl Eller, Eric Dickerson, Roy Green, Mike Haynes, Isiah Robertson, Dave Krieg, Derek Kennard, Devon Kennard, Mike Davis, Lincoln Kennedy, Kwami Lassiter, J.D. Hill, Andre Hastings and more. David Gergen will be on site to answer any questions regarding getting tested and/or treated for sleep apnea. Any dentists or physicians interested in joining Pro Player Health Alliance for a chance to treat NFL greats for their dental and sleep apnea needs can email David Gergen at gxployer(at)aol(dot)com.
Event Details
Padre Murphy's
4338 West Bell Road, Glendale, AZ 85308
January 28, 2015
7:00PM-9:00PM
ABOUT PRO PLAYER HEALTH ALLIANCE
Pro Player Health Alliance (PPHA) is an organization dedicated to helping former NFL players, through providing testing and treatment options for those who suffer from sleep apnea. Since launching in April 2012, over 160 players have been treated through PPHA's "Tackle Sleep Apnea" campaign. Also, the PPHA is dedicated to integrating education and raising sleep apnea awareness in a fun and memorable way. In addition to the campaign, PPHA is dedicated to testing and getting people who suffer from sleep apnea treated.
ABOUT DAVID GERGEN
As President of the Pro Player Health Alliance, he has been a nationally respected dental lab technician for over 25 years. He received the award for "The Finest Orthodontic Technician in the Country" given by Columbus Dental in 1986. He also has been appointed chair of the dental wing of the American Sleep and Breathing Academy, a national interdisciplinary academy dedicated to sleep training and education. He has worked for some of the pioneers in the orthodontic and sleep dentistry fields. One of his proudest achievements is receiving The National Leadership award for Arizona Small Businessman of the Year in 2004.
ABOUT PADRE MURPHY'S
In October 1993, Thomas Boyle opened Padre Murphy's, which he aptly named after Father Daniel Murphy, Tom's former parish priest from Binghamton, NY. Although Tom is an experienced restauranteur, he readily admits, "Being a sole proprietor is extremely difficult without the security of corporate backing." Then again, it is his personal dedication that ensures a great sports atmosphere, great food, and fast, friendly service for all of his clientele.