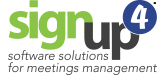 We're excited to finally get this product into the hands of an under served market.
Atlanta, GA (PRWEB) January 28, 2015
SignUp4, an innovative meetings management software provider, announces the release of a powerful, yet condensed version of their complete Spend Management System (SMS) which is used by many of the Fortune 1000 and others to support their enterprise-wide, Strategic Meetings Management Programs (SMMP). The new offering, known as SMS Express, is ideal for organizations that require more than just a registration tool, yet are not in need of a true enterprise solution.
SignUp4 recognized the mid-market pain points which require more visibility, compliance and spend tracking, but do not have the resources or time to collect big data, onboard stakeholders and create implementation programs which could potentially take months. With the use of SMS Express, meeting professionals are afforded the same opportunities as users of the full SMS platform on a more condensed path enabling a quick-start and a more seamless transition and implementation. Managing spend under one centralized platform has long been a desire for this industry segment; however, overwhelming implementations and limited resources are obstacles that are often impassable.
Studies have shown that users of this end-to-end meetings management technology have experienced a 60 percent higher rate of realized and implemented cost savings than those not using technology. The visibility afforded by this technology alone can often times be worth the price of admission. These opportunities are now being made available to the neglected SMB sector that relies heavily on additional savings and faces even tighter budget constraints.
SMS Express is a prepackaged solution which allows for a seamless start to managing event related spend without the hassle of a large-scale roll out. "We believe that in many - but not all - scenarios, the thought of SMM is sometimes overblown, ultimately preventing an otherwise perfectly viable prospect from reaping the benefits of this type of technology. We're excited to finally get this product into the hands of an under served market. Feedback from early adopters has been positive and we will continue to improve the application as we better understand the needs of our customers," said Matt Curry, VP of Sales.
About SignUp4
SignUp4 is the innovative event management technology provider offering the highest quality strategic meetings management solutions with an affordable unlimited usage model. The goal of SignUp4′s meetings intelligence suite is to streamline workflows, simplify and drive registrations, efficiently manage travel logistics, improve communications, and provide visibility into meeting spend for leveraging contract negotiations and increasing ROI. With over a decade of experience, 3,500 users and over 80 of the Fortune 500, we understand the value of your time and events. Learn more at http://www.signup4.com follow us @SignUp4.