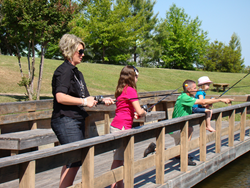 Athens is the perfect destination for families looking to getaway and explore the outdoors, said Sherri Skeeters, tourism coordinator for the City of Athens Department of Tourism.
Athens, Texas (PRWEB) February 12, 2015
With spring just around the corner, the City of Athens Department of Tourism is preparing to welcome nature lovers to its outdoor activities and diverse venues. Located just a few hours away from most major cities in Texas, Athens offers the perfect family getaway or adventure vacation.
Known for its natural beauty, Athens provides an array of activities for visitors to enjoy the outdoors including bird watching, fishing, boating, nature walks and golfing, just to name a few.
Athens offers several affordable activities to families at spring break. On March 7, Keep Athens Beautiful will transform the Henderson County Regional Fair Park grounds into a marketplace for the annual Home and Garden Show. The lawn mower races, hosted by the Lone Star Mower Racing Association, is a new addition to this year's annual event.
On March 14, the Cain Center will host its first St. Patrick's Day fun run Come Jig & Jog With Us. Participants can choose to participate in the 5K or 1 mile run/walk and participants may register their dog to join them in the fun. The Texas Freshwater Fisheries Center will have its monthly Bird and Nature Walk and they will host the annual Fly Fish Texas on March 14. Fly Fish Texas is aimed at the novice fly fisher and will teach guests how to tie a fly, cast it and catch a fish with it, all in the same day. Food vendors will be on site every day from March 10-14 at the Texas Freshwater Fisheries Center so families can spend the day enjoying the outdoors this spring break.
Visit the Henderson County Regional Fair Park Complex for several free events coming up on March 14-15 for Fire It Up Productions, a two-day team roping event; the following Saturday on March 21, the complex will host the World Series Team Roping; and March 27-29 will be the Texas High School Rodeo Association.
Learn a variety of outdoor skills and engage in activities such as archery, fishing and kayaking at the Outdoor Expo on March 28 at the Texas Freshwater Fisheries Center. The event showcases outdoor recreation opportunities in East Texas while teaching some of the skills needed to enjoy them from fishing and outdoor cooking to birding and more.
Participants come from across the country to showcase their personal recipes, meet with fellow Eggheads and share some great food with the crowd at the 5th Annual Athens EggFest on April 11 at the Texas Freshwater Fisheries Center.
The Henderson County Go Texan Rodeo, hosted by the Athens Chamber of Commerce, will take place April 24-25 at the Henderson County Regional Fair Park Complex. Contestants will compete in events including team roping, barrel racing, calf roping, the popular 21 and Older Women's Calf Scramble, and Bull Riding.
For more information about Athens including hotel accommodations, coupons and upcoming events, visit http://www.AthensTX.org or call 1-888-294-2847 to request a free visitor's guide.
About the City of Athens:
The City of Athens, Texas is a scenic, idyllic town offering relaxation and a break from the hustle-and-bustle of everyday life. With its nature trails, gardens, fall foliage, historical museum, fishing sites and scuba diving facilities, rodeos, and vineyard, it appeals to adventure enthusiasts and casual travelers alike. Athens is also the nationally acclaimed "home of the original hamburger." For more information about Athens, visit http://www.AthensTX.org.