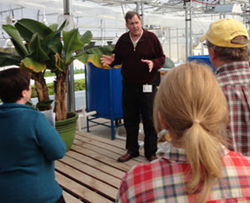 Rebecca Nelson, comments: ""I truly believe that aquaponics has the potential to change the face of agriculture while increasing the availability of fresh, nutritious food for people around the world."
Camp Verde, AZ (PRWEB) January 28, 2015
The Fish's Garden, located in Camp Verde, AZ, will host an Aquaponics Master Class at their greenhouse February 19-21, 2015. Aquaponics is a sustainable method of farming in which fish and vegetables are raised in an integrated system. The Aquaponics Master Class is taught by industry experts, Rebecca Nelson and John Pade, of Nelson and Pade, Inc.®, Montello, WI, along with members of the Nelson and Pade Team.
BJ and Cat Davis, owners and operators of The Fish's Garden Aquaponic Farm, will host the class and be available to all students to answer questions and share insight on the startup and operation of their aquaponics business. The Davis' operate commercial Clear Flow Aquaponic Systems®, designed and manufactured by Nelson and Pade, Inc.® BJ and Cat, in an effort to redefine their careers using sustainable efforts to grow food, left their professions, BJ as an architect and Cat as an electrical engineer, to become aquaponic farmers. Their system has been in full production for about a year, with the produce that they grow sold to local restaurants and markets.
Nelson and Pade, Inc.® is the leader of the aquaponics industry, with 25+ years' experience in designing, building and operating science-based aquaponic systems. The Aquaponics Master Class, offered and taught by Nelson and Pade, has had attendees from over 70 countries and all 50 US states. Rebecca Nelson, author of the book, Aquaponic Food Production, and John Pade, lifelong successful entrepreneurs, are both adjunct instructors for the University of Wisconsin-Stevens Point, where they co-developed and co-teach a full semester aquaponics course.
Rebecca Nelson, comments: ""I truly believe that aquaponics has the potential to change the face of agriculture while increasing the availability of fresh, nutritious food for people around the world."
The Aquaponics Master class covers all aspects of aquaponic food production, including methods, technology, economics and daily operation. There is a high level of enthusiasm for aquaponics at the Master Class, combined with the science and real world application of this fascinating method of growing food. Master Class attendee, David Wunrow, Marshfield, WI, comments: ""I want to tell you that the Aquaponics Master Class is top notch! As a pharmacist, I have attended many medical and pharmaceutical conferences for continuing education. Your course was on par with the best, at a level that all could understand and even offered the possibility of college credit! The Nelson and Pade Inc. Aquaponics Master Class is a well-designed, science-based learning experience and one in which it was a pleasure to participate."
Through Nelson and Pade, Inc.®'s partnership with the University of Wisconsin-Stevens Point, there is a path for any Master Class attendee to earn 1 full university credit or Continuing Education Units by attending this class.
Details:
What: Aquaponics Master Class, 3-day course
Where: Camp Verde, AZ
When: February 19-21, 2015
Who: Offered by Nelson and Pade, Inc., http://www.aquaponics.com; Hosted by The Fish's Garden, http://thefishsgarden.com/
The Aquaponics Master Class is ideal for anyone interested in growing food in aquaponics, whether it be for home food production, a social or mission project or for a commercial farming venture. Anyone interested in attending the Aquaponics Master Class in Arizona should contact Nelson and Pade, Inc.® at info(at)aquaponics(dot)com, 608-297-8708.
--------------------------------------
Nelson and Pade, Inc.®, the most respected name in aquaponics™ offers the Aquaponics Master Class, Clear Flow Aquaponic Systems®, supplies and technical support. Their decades of experience in aquaponics are reflected in proven system designs, successful operations, comprehensive training and knowledgeable staff. Nelson and Pade, Inc.® is a Wisconsin-based corporation that embraces social entrepreneurship and works to provide innovative systems to grow food and provide sustainable solutions to feed the growing global population.
Additional information for journalists and media:
Rebecca Nelson and John Pade will all be available for TV, radio, web or print media interviews from Feb 18-21 while in Camp Verde, AZ. They have been featured as experts on aquaponics in all types of media throughout the US and Internationally. For details or to set up an interview, please contact Rebecca Nelson, nelson(at)aquaponics(dot)com