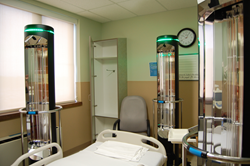 Naperville, Ill. (PRWEB) February 02, 2015
Faxton St. Luke's Healthcare (FSLH) in Utica, New York, recently presented data of its one year study on the effectiveness of its new Surfacide Helios Triple Emitter UV-C disinfection system. Heather Bernard RN, BS, CIC, director of Infection Prevention, Mohawk Valley Health System, presented data on January 8, 2015, summarizing a dramatic reduction of C.diff infections in 2014 at FSLH following the year-long use of bundled evidence-based interventions and Surfacide's next generation, patented, UV-C delivery technology.
"Multi-drug-resistant organisms like C.diff have long been a formidable foe in healthcare environments," noted Bernard. "The thirty-nine percent reduction in C.diff infection rates is very significant and suggests that Surfacide's technology holds promise for ensuring that patient care areas are as microbe-free as possible."
The Surfacide Helios system utilizes ultra-violet (UV-C) light energy, an evidenced-based disinfection modality for controlling microorganisms -- including those that are multi-drug resistant -- that cause healthcare-associated infections. However, unlike the single emitter method that employs outmoded UV light energy and delivery technology and whose effectiveness is extremely diminished due to major challenges with distance to surface, lack of effective energy dose delivery and overall surfaces missed due to shadows, the Surfacide Helios system incorporates three separate emitters. This allows a larger space to be treated during the same disinfection cycle and substantially reduces the problem of shadowed areas. Furthermore, the system includes a validation component using a proprietary laser mapping technology. This results in a more intense level of energy being delivered to every surface, in less time and with confirmation. The Surfacide Helios system can treat an entire patient room via its three towers placed in a room typically in less than 20 minutes. Utilizing this system at the conclusion of a patient's stay will help ensure that the room is safer for the next patient.
"The Faxton St. Luke's data is impressive and supports what we are beginning to see in other health care institutions," said Gunner Lyslo, chief executive officer, Surfacide. "What makes the findings exciting is that Faxton St. Luke's team did not change any of the other evidence-based bundle components efforts (hand hygiene, environmental cleaning, or antibiotic stewardship) during the observation period. While this was not a clinical trial, the Faxton St. Luke's team is confident that the Surfacide system made an important contribution to its C.diff control efforts."
About Faxton St. Luke's Healthcare
Faxton St. Luke's Healthcare (FSLH) and St. Elizabeth Medical Center (SEMC) affiliated as the Mohawk Valley Health System (MVHS) in March 2014. MVHS is governed by a single board of directors and operates under a single management team. Scott H. Perra, FACHE, is president/CEO of MVHS. Both FSLH and SEMC serve the geographic area of Oneida, Herkimer and Madison counties. MVHS is an integrated delivery system with 4,200 full-time equivalent employees and a combined operating budget of $537 million.
About Surfacide
Surfacide, LLC, is the designer of UV-C disinfection systems. Surfacide's mission is to develop and provide the most effective technology and provide a solution to combat Health Care Acquired Infections (HAIs). Surfacide specializes in providing evidence-based solutions that target the reduction of pathogens and causative agents of infectious diseases with primary focus toward the control of emerging "super bugs" in the health care space such as C.diff, CRE, MRSA, VRE, and Acinetobacter. For more information, visit http://www.surfacide.com.