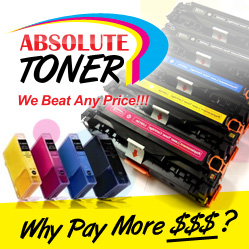 Reap the benefits of saving money and keeping the quality
Toronto, Ontario (PRWEB) January 28, 2015
Absolute Toner is proud to now offer the compatible for Lexmark T650 black laser toner cartridges which work within over a dozen Lexmark T650 laser printers. Additionally, these toner cartridges come with a lifetime warranty, satisfaction guarantee and customers ordering online are eligible to earn Absolute Toner Reward Points on all purchases from the website. This is an absolutely no-risk offer for premium cartridges capable of printing more than 21,000 sheets. To order the black toner cartridge from Absolute Toner now, simply visit http://www.absolutetoner.com/lexmark-t650h11a-toner-cartridge-t650-compatible.html.
The product page also displays a complete list of compatible printers for this cartridge, which include the Lexmark T650, Lexmark T652, the Lexmark T654 and nearly a dozen other Lexmark T650 model laser printers. Most common models; Lexmark T650dn printer, Lexmark T652dn printer, Lexmark T654dn printer, and Lexmark T650N printer. With this new compatible cartridge, users will be able to reap the benefits of saving money and keeping the quality when it comes to printing on any of the above mentioned printers.
Absolute Toner is Canada's leading supplier of ink and laser printer cartridges. The Toronto-based supplier stocks only premium products and boasts the most competitive pricing in the industry. With quality and price in mind, customers of Absolute Toner will definitely react positively to the new product release. Reach them by phone toll free at 1-877-437-5364 or 905-326-2790. Office hours are 9 a.m. to 6:30 p.m. Monday through Friday, and 12-4 p.m. on Saturday.