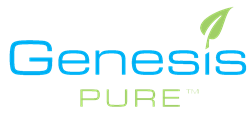 Dallas, Texas (PRWEB) January 28, 2015
Last Wednesday in Frisco, Texas – a booming community 30 minutes from the Dallas Metro, members of the Frisco Chamber of Commerce gathered with employees of Genesis PURE to celebrate the company's new global headquarters and its membership with the Chamber. Genesis PURE has several offices around the globe, including Japan, Costa Rica, Korea, and Taiwan. In the past year, this new Genesis PURE corporate office has welcomed nearly 100 employees.
Following the ceremony, Frisco Chamber Ambassadors, including representatives from local businesses had the opportunity to build new connections and create long lasting professional relationships with Genesis PURE employees. All attendees received an introduction to Genesis PURE and the superior products and programs the company offers.
Situated in Frisco's charming downtown, east of the Toyota Stadium and outdoor athletic field, where hundreds of residents regularly gather for soccer, Genesis PURE fits right in as an advocate of healthy lifestyles. With its new Wellness Advisory Board, which includes experienced medical doctors, the company continues to provide quality products designed to help support balanced and healthy living.
"The Frisco Township is all about family and being active. It's a natural fit for the type of company we are and we're excited to be a part of this growing community," said Bobby Love, President of Genesis PURE. "Our company provides quality nutritional products based on the philosophy of Cleanse, Balance, Build & LOVE, and we believe the city of Frisco is the right place for us to continue to expand our firm..."
About Genesis PURE
Genesis PURE is a rapidly growing global leader in natural health products. The company's products combined with their proven philosophy of Cleanse, Balance, Build & LOVE, help people to live healthier and more fulfilling lives and are available in more than 10 countries. To learn more about Genesis PURE, visit http://www.GenesisPURE.com.
About Frisco Chamber of Commerce
Frisco Chamber's mission is to provide connections, resources and advocacy efforts, and to support, strengthen and grow members' businesses; thereby, improving and contributing to the entire community.
Media Contact:
media(at)genesispure(dot)com
7164 Technology Drive, Suite 100
Frisco, TX 75033