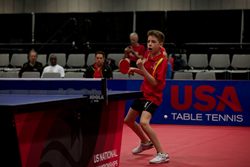 (PRWEB) January 28, 2015
The 2014 North American Tour Grand Final is a two-day tournament where the top sixteen players from the 2014 North American Tour compete for over $10,000 in prizes. Being held for the first time from February 6th to February 8th at Westchester Table Tennis Center in Pleasantville, New York, players and fans will be coming from all over the country to be a part of this great event. Tournament coordinator, Bruce Liu, and host, Will Shortz are kicking off the NA Tour Grand Final with a welcome party on February 6th where players and fans can meet the competitors, enjoy food and drinks, and get a personal greeting from Gordon Kaye, the CEO of USATT.
JOOLA has always supported the North American Tour and will continue to do so by sponsoring the NA Grand Tour Final with two pristine JOOLA 2000-S table tennis tables and barriers for the tournament. Be sure to keep a lookout for JOOLA's own Gal Alguetti from Tenafly, New Jersey.
2014 North American Tour Grand Final Participants
1. Kai Zhang, Pleasantville, NY
2. Jishan Liang, Flushing, NY
3. Xiang Jing Zhang, El Monte, CA
4. Bob Chen, Milpitas, CA
5. Yonghui Liang, Milpitas, CA
6. Ruichao Chen, Germantown, MD
7. Eugene Wang, Victoria, BC, Canada
8. Jimmy Butler, Houston, TX
9. Zi Rui Zhao, Livingston, NJ
10. Rui Wang, Milpitas, CA
11. Jack Wang, Livingston, NJ
12. Gal Alguetti, Tenafly, NJ
13. Tinglei Wu, Flushing, New York
14. Dan Liu, Milpitas, CA
15. Nathan Hsu, Rockville, MD
16. Crystal Wang, Boyds, MD
About JOOLA USA
In just five years, JOOLA has grown to dominate the professional table tennis scene in the United States. JOOLA is proud to be the official apparel sponsor of the US National Team. Additionally, JOOLA has also been named the official table sponsor for the US Open and US National Championships. These annual competitions are the two largest gatherings of the sport's enthusiasts nationwide. Partnering with North American Table Tennis (NATT) and USA Table Tennis (USATT), the national governing body for table tennis, JOOLA has grown its fan base to become the most visible table tennis brand in US table tennis.