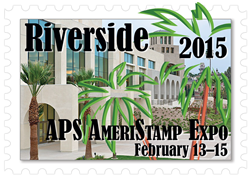 There is something for everyone from the experienced stamp collector to the non-collector — exhibits, dealers, specialty collecting groups, seminars, and much more.
Bellefonte, Pennsylvania (PRWEB) January 29, 2015
America's Stamp Club is traveling to Riverside, California for its annual Winter Stamp Show. The AmeriStamp Expo show will be held at the Riverside Convention Center, 3637 Fifth Street. The doors open daily at 10 a.m. and admission is at no cost. Friday and Saturday the show runs until 6 p.m.; Sunday until 4 p.m.
Don't know what to do with Uncle Charlie's stamp collection? Visit the "What's In Your Attic!" booth. The experienced collectors manning this booth will offer advice — whether you should donate the collection, contact a dealer or auction house to sell it, or to just keep it in the family as a memento or for a future collector. The advice is complimentary, but this is not meant to be a formal appraisal.
There is something for everyone, from the experienced stamp collector to the non-collector: exhibits, dealers, specialty collecting groups, seminars, and much more.
What to do at the show —

Download the Free APS App (http://www.stamps.org/ASE-App). It contains the daily schedule of events, a roster of dealers, their specialties and booth locations, a list of exhibits, and more.
While supplies last, members and new members who join the APS at the show will receive a coupon booklet containing more than 55 dealer & APS coupons, 10 local downtown Riverside restaurant coupons, and discounts on local attractions.
Attend the First Day Ceremonies — A First Day Ceremony is the official unveiling of a new stamp release. The United States Postal Service will issue Vintage Rose and Vintage Tulip stamps at noon on Saturday, February 14 and the Marshall Islands will issue its Sweet Berries stamps at 3 p.m.
See Rare Stamps on Display — The "Inverted Jenny" is the nation's most famous upside-down airplane. Learn how the stamp took a wrong turn. Also on display will be the earliest known U.S. Presidential free frank. U.S. Presidents are provided free mailing privileges and this letter was sent by President George Washington in May 1789.
Get Into Collecting in the Kid's Stamp Zone — The Zone is a kids-only fun area with games, puzzles, activities, stamps and more stamps. Adults must be accompanied by a child.
"Shop 'til You Drop" — Dealers will be selling stamps from around the world, hobby supplies, and other stamp-related materials: postcards, items of postal history, illustrated envelopes, etc. Prices will range from a dime to a dollar and up. Dealers also will be buying. (http://www.stamps.org/ASE-Dealers)
Buy Stamps from the United States Postal Service — The USPS will have a stamp counter, merchandise area, and First Day cancels.
Meet Stamp Designer, Chris Calle — Chris has designed stamps for the USPS and the Marshall Islands and created the illustrated souvenir cover for this year's show. He will be located at the APS Booth during the show.
Dive Into Stamps By the Bucket — A huge pile of stamps and a pail equals a bucketful of fun for both children and adults.
Learn About Collecting — New to the hobby? Don't know where to begin? A stop at the Beginner's Booth is a must. Sign up for the StampBuddy program. For a more in-depth learning opportunity, sign up for Stamp Collecting 101.
Stop at America's Stamp Club Booth — Staff members of the American Philatelic Society are ready to greet all attendees, share information about the Society and the hobby, and answer questions.
Come to the show — February 13-15 at the Riverside Convention Center and explore the wide-world of stamp collecting.