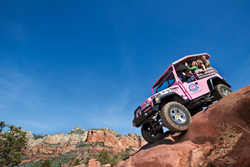 Sedona, Arizona (PRWEB) January 28, 2015
When visiting Arizona for the Big Game this weekend, don't miss the opportunity to explore the most diverse and beautiful landscape in the state. From the serene beauty of the Sonoran Desert, to the monumental Grand Canyon, to the majestic red-rock monoliths of Sedona in between, Arizona offers the most spectacular scenery in the Southwest.
Certainly the Big Game is one of the greatest displays in all of sports, but it only lasts a few hours. For the rest of the stay in Arizona, let the most professional game in town, Pink Jeep Tours, provide a guided tour to the most iconic destinations in the state. With locations in Scottsdale, Sedona, and the Grand Canyon, Pink Jeep Tours offers the easiest and most convenient way to add an amazing and unforgettable adventure to any Arizona vacation.
Scottsdale offers the unique beauty of the Sonoran Desert and old-west hospitality. Experience a Jeep tour through the majestic Saguaro, Ocotillo, and Cholla cactus along with an authentic southwest ranch that offers horseback riding and various cowboy games. Want to escape the hustle and bustle of the crowded city for the day, then hop aboard one of the luxurious Mercedes Benz tour vehicles for an amazing adventure to the Grand Canyon or Sedona, both of which offer spectacular rugged beauty.
For those driving to Sedona or the Grand Canyon, don't miss a guided Jeep Wrangler tour for an up-close and personal experience of two of the most beautiful places in the world. The Broken Arrow Tour in Sedona is absolutely the most popular and most adventurous off-road tour in the Southwest. Pink Jeep Tours also offers one of the most unique ways to explore the Grand Canyon with the Grand Deluxe Tour. Explore the entire South Rim of the Canyon with a knowledgeable guide that will visit the most dramatic viewpoints and provide intriguing information about the history, geology, and wildlife at the Grand Canyon.
Be sure to add a little adventure to an Arizona vacation. Pink Jeep Tours offers the most unique adventure tours, cutting edge vehicles, and industry leading guides. Visit pinkjeep.com or call 1-800-873-3662 to book your adventure!
About Pink Adventure Group
Pink Adventure Group, the premier adventure tour company of Arizona & Las Vegas, Nevada, was founded in 1960 and has its corporate headquarters in Sedona, Arizona. It serves visitors from around the world with a corporate fleet of 150 cutting edge vehicles and is the only tour company with guide trainers certified by the National Association for Interpretation on its staff, and the only tour company to use the professional driver training company, Smith System®, by all guides.
Media Contact
Chris Epper
928-203-7043 or 800-873-3662
chrise(at)pinkjeep(dot)com