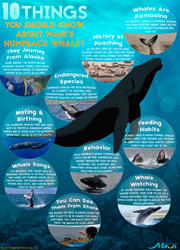 To look a whale in the eye is a life changing experience. - Tim Lara, Maui Kayak Adventures Guide
(PRWEB) January 28, 2015
Many species of whales were nearly hunted to extinction just fifty years ago. Today in Maui, thanks to decades of worldwide conservation efforts, these 'gentle giants' are finally making a real comeback with North Pacific Humpback Whale population estimates up to 21,000, almost 1/2 of pre-whaling estimates.
And, because their 4 year whale reproduction cycle peaks this year, the Maui 2015 whale counts could shatter all known written records (FYI: that means there will be baby whales, or 'calves', galore). So, it's time to get those sea legs on and go whale watching.
Always abiding by the law, the expert crews and guides of Maui's many tours stop a good distance away from the whales and just watch from a safe distance. (The whales usually allow their curiosity to get the best of them and they come right over to the boat.)
Experience up close (but not too close), a North Pacific Humpback Whale while on a comfortable boat. Pride of Maui's namesake 65' custom catamaran is steady, with plenty of deck space (2500+ sqft.) and 360 degree viewing to make sure no one misses out on a thing. It's even equipped with a HYDROPHONE on the boat to hear them sing. (Pride also offers a whale watching and snorkeling option that allow guests a chance to see the whales in their natural environment.) The crews at Pride of Maui, and it's sister ship Leilani, are so sure about this watching season, whale sightings are guaranteed on all whale watching tours this season.
Hawaiian Paddle Sports and Maui Kayak Adventures make it more personal with smaller group and individual private tours. Being up close on the water (in an Hawaiian outrigger canoe, kayak or stand up paddle board) brings an entirely different perspective to these graceful, gentle, colossal creatures. Imagine being right there, level with these gentle giants.
Many people say that something extraordinary happens when we're in close proximity to one of the biggest animals on the planet. Hearts and minds get opened when one connects deeply with the whales by looking into their eyes and hearing their songs of love. When this happens there is an inseparable bond that forms, which is beyond words and lasts forever. It might be that once-in-a-lifetime experience that no one should miss out on.