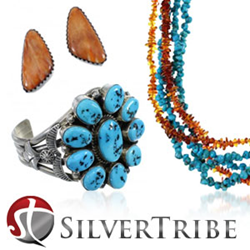 Turquoise and amber in particular are excellent pieces to pair with the lightness of spring fashion
Phoenix, Arizona (PRWEB) January 27, 2015
As the snow melts, many people are eager to wear the newest spring trends for the upcoming warmer weather. Crop tops, peach and apricot colored prints, and tea-length dresses are all prepped to decorate the racks in stores throughout the country. A staple of spring fashion is bright, beautifully colored jewelry that compliments the weather and feeling of the new season. SilverTribe has recently rolled out the newest styles of Native American and southwestern jewelry to complement the spring trends of 2015.
The online leader in southwestern style and Native American jewelry has introduced new inventory specifically made to enhance the trendy looks of spring fashions. Coral, amber, and turquoise gemstones embedded into necklaces, earrings, rings, and more create a modern but unique accessory option for 2015's spring styles.
"The 2015 spring styles are all about soft edges with modern twists and flairs of color," said SilverTribe spokesperson Chris Anderson. "Our newest inventory reflects these styles with an array of curved and cut jewelry with gemstones that are set in sterling silvers and other precious metals."
Iconic fashionistas like Eva Longoria and Reba Mcentire are known for sporting southwestern jewelry alongside fashions seen on the latest runway shows. Focusing on coordinating the color of gemstones with your spring outfit is the key to making this style work.
"We've added jewelry specific to the 2015 spring trends so that everyone can access these unique and beautiful gems," said Anderson. "Turquoise and amber in particular are excellent pieces to pair with the lightness of spring fashion."
Anderson notes that in addition to the spring-trend focused inventory, SilverTribe continues to carry high-quality Native American jewelry and accessories year-round for enthusiasts and those who simply enjoy the beauty of authentic Native American art.
"We also continue to offer free shipping and an email VIP program that alerts users to new discounts and deals," said Anderson. "One of SilverTribe's goals is to always provide southwestern accessories that any modern woman can wear."
Shop SilverTribe's newest spring jewelry along with hundreds of trendy styles and authentic Native American accessories by visiting SilverTribe.com.