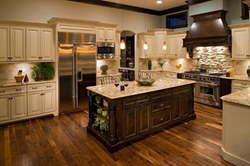 "Our customers need a strong balance between two things: making sure they stay within their budget, and receiving the high quality they want and deserve." -Talia Weldon
Los Angeles, CA (PRWEB) January 29, 2015
Hi-Tech Builders, Inc has recently been recognized by prominent online web companies such as Angie's List, Yelp, and Home Advisor as being one of the top professional competitors in their industry. Outstanding customer reviews have allowed this company to maintain a solid status of excellent customer service. It is the Hi-Tech Builders, Inc commitment that 2015 will continue to provide a first-rate service to all of its customers.
This company holds itself to very high standards by maintaining a positive and upbeat interest in the needs of their customers. This was recently proven during an estimate inquiry call with their Advertising Manager, Talia Weldon. Weldon carried the conversation completely engaged to the customer's needs and held a resilient attitude. When asked about their customer's number one desired quality when choosing a remodeling company, Weldon states, "Our customers need a strong balance between two things: making sure they stay within their budget, and receiving the high quality they want and deserve."
Proof of Hi-Tech's quality work is also featured through stunning photos in the Gallery section of the company's website, http://www.HI-TECHBUILDERSINC.COM. This website allows any potential client to get a full preview of the Hi-Tech Builders experience. Under the "Our Customers" tab, browsers can view completed projects from previous customers' homes. This unique feature gives the most accurate glance at just how amazing your next remodel or home improvement project can be with this company.
By and large, anyone interested in home remodeling or new home additions should highly consider Hi-Tech Builders, Inc as a prime option to get the job done right. If the 23 years of experience and raving reviews aren't enough, you'll surely be impressed with the amazing customer service.
About High-Tech Builders, Inc.
For over a decade, High-Tech Builders has served the greater Los Angeles, Orange, and Ventura areas as a leading value-based, full-service construction company. This family-owned business delivers high quality construction and remodeling for individual homes, providing unwavering, top-notch customer service without exception. From home building to pool remodels to landscaping, High-Tech Builders will customize every detail, turning your vision into a full-scale reality that you can enjoy for years to come.
For more information about High-Tech Builders, Inc., please visit:
http://hi-techbuildersinc.com/
To follow High-Tech Builders on Facebook or Twitter, please visit:
http://www.facebook.com/hitechbuildersinc