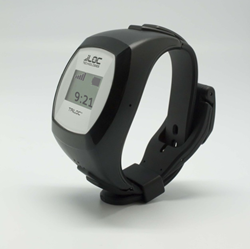 We look forward to a long-term and successful relationship with DirectAlert.
Montreal, Quebec (PRWEB) January 28, 2015
iLOC Technologies (iLOC), a leading provider of purpose-built, mobile personal safety & wandering notification solutions, announced today it has signed a sales and distribution agreement with DirectAlert® to represent iLOC in Canada offering sales, monitoring services and technical support.
According to the Alzheimer Society of Canada, Dementia is prevalent in almost 15% of Canadians 65 and older(1) and is expected to rise steadily as this demographic group continues to grow. Sadly, the current healthcare systems are not adequately resourced to meet the tremendous service needs throughout the lifespan of the disease. This puts pressure on families to have their loved ones stay at home longer, or be placed in private residences or assisted living facilities. Furthermore, it's estimated that up to 31% of nursing home residents and between 25% and 70% of community-dwelling older adults with dementia wander at least once(2). In addition, it is estimated that 1 in 3 persons over the age of 65 is likely to fall at least once each year(3) and falls are the leading cause of injury related hospitalizations among seniors(4).
Tony Fama, President and CEO of iLOC said, "We're extremely excited about working with the team at DirectAlert® who will further extend our reach into the mobile Personal Emergency Response System market as a strategic partner, bringing proven sales and distribution expertise focused on the growing seniors segment. We look forward to a long-term and successful relationship with DirectAlert®."
"We've researched, reviewed and tested many products in the past two years to find a mobile Personal Emergency Response solution (mPERS) to complement our current product offering. We believe and trust in the iLOC solution and with the addition of the TRiLOC GPS system, DirectAlert® takes all its expertise to help seniors feel safe outside the home, offering peace of mind wherever they may be." said Mr. Gregory Kis, President of DirectAlert®.
Under the terms of this agreement, DirectAlert® will handle sales, distribution, customer and technical support of iLOC products including the TRiLOC® GPS Locator and BlueBeacon™ indoor locating accessory, while providing their own value added monitoring services.
About DirectALert®
DirectAlert® is Canada's fastest growing Personal emergency response company, proudly serving Canadians nationwide for over 10 years. With DirectAlert®, seniors are able to live alone longer, independently in their own homes without fear and with the peace of mind of knowing that they are never alone and that help is available at the push of a button. The trained monitoring personnel reply in seconds via a live 2-way voice conversation to assess any emergency situation and provide personalized service to send the appropriate help. For more information visit the company's web site at http://www.directalert.ca.
About iLOC Technologies Inc.
iLOC Technologies located in Montreal, Quebec, is privately funded by its founders, investor members of Anges Quebec, Anges Quebec Capital, and other strategic investors. Our mission is to provide purpose-built, cost-effective and innovative wandering prevention, fall detection and mobile Personal Emergency Response Solutions (mPERS) serving at-risk individuals for both personal and commercial applications. Worn on the wrist, our mPERS solution, launched in the Fall of 2013, incorporates the latest in Global Positioning, 4G/3G/2G cellular network and Bluetooth 4.0 wireless technologies to accurately communicate an individuals location and alert status. Individuals can be located either on-demand or tracked automatically while providing active support for various alerts such as fall detection, over-speed, geo-Fence or bracelet clasp open. Alert notifications can be sent directly and securely to any computer, cellular or smartphone. For more information visit the company's web site at http://www.iloctech.com.
(1) Alzheimer Society of Canada, 2012 study "A new way of looking at the impact of dementia in Canada"
(2) Lai CK, Arthur DG. Wandering behaviour in people with dementia. J Adv Nurs. 2003;44(2):173-182. -
(3) World Health Organization, 2008
(4) Public Health Agency of Canada, 2005
Contact Information
Client Services
iLOC Technologies Inc.
http://www.iloctech.com
855-987-4562