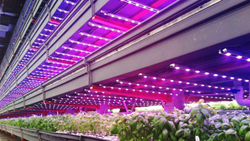 The additional cost of LEDs is offset by significant energy savings and increase in plant mass.
Austin, Texas (PRWEB) January 29, 2015
A team of nearly two dozen engineers, plant scientists and urban farmers recently completed an installation of more than 1,000 Illumitex Eclipse horticultural lights at a massive 6-level aquaponic system at FarmedHere Vertical Farm in Bedford Park, Illinois.
As Chicagoland demand for quality, locally grown organic produce escalates exponentially, innovative urban grower FarmedHere continuously expands its operations to keep environmentally sustainable, socially wholesome and economically viable baby greens, herbs and tomatoes flowing to area grocers such as Whole Foods.
A critical part of FarmedHere's ability to meet Chicagoans' hunger for locally sourced greens is keeping operating expenses low, and Illumitex's highly energy-efficient grow lights are key to that strategy.
FarmedHere's vertical aquaponic grow systems are among the world's most advanced operations for producing high-quality produce. By incorporating the patented horticulture LED lighting technology provided by Illumitex, FarmedHere has entered into a new advanced field of plant produce production.
"There is a balance with Illumitex which is hard to find in other places," says Paul Hardej, Chief Technology Officer at FarmedHere. "The additional cost of LEDs is offset by significant energy savings and increase in plant mass," says Hardej, who is responsible for the development of the company's vertical farm.
The still-nascent field of controlled environment agriculture is still developing, and Illumitex and FarmedHere worked closely to perfect the technology that would work in FarmedHere's particular operations.
"Illumitex provided FarmedHere with a solution that began with extensive R & D and ended with turnkey installation of more than 1,000 lighting modules over the aquaponic grow beds," says Hardej.
"Working with FarmedHere to optimize this groundbreaking vertical farm has been a textbook lesson in collaboration and productivity," says Paul Gray, Illumitex VP of Horticulture Lighting Solutions and Senior Horticulture Scientist. "We look forward to deepening our partnership over years to come."