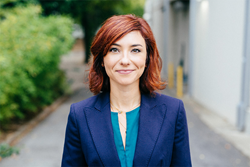 AUSTIN, Texas (PRWEB) January 29, 2015
Square Root, a Software as a Service (SaaS) company that provides field performance management solutions for multi-unit enterprises, has hired Sarah Gerichten as director of marketing. With her in-depth knowledge of enterprise technology, Gerichten will use her 10 years of business-to-business marketing experience to help develop and communicate Square Root's abilities to new clients and industries.
"To continue to grow Square Root, we needed an experienced marketing leader with a passion for our product, CoEFFICIENT®," said Chris Taylor, CEO of Square Root. "Sarah's understanding of the intricacies of B2B technology and her ability to build effective, multi-channel marketing programs make her the perfect fit to tell our story."
Gerichten came to Square Root from Adometry, where she was part of the marketing team when the company was acquired by Google. At Adometry, she developed, managed, and tracked various global demand generation campaigns from conception to close. Prior to Adometry, Sarah worked as the marketing manager at Invodo, where she helped build the sales pipeline by initiating demand generation and digital marketing practices.
"Every day, the team at Square Root inspires me with their enthusiasm for the company and tireless work to reinvent the way companies measure and improve business operations," said Gerichten. "I look forward to using my experience to cultivate the Square Root brand, bringing our software solutions to new markets."
Sarah started her marketing career at Bazaarvoice, where she led cross-functional planning and execution of the user conferences in the US and the UK. As an early employee of Bazaarvoice, she was fortunate to be a part of the company during its IPO. Outside of work, Sarah is an active member of the Mystic Krewe of Nyx, a New Orleans Mardi Gras parading organization. She spends her free time singing in rock and roll bands and exploring Austin in pursuit of the best food. Sarah graduated from West Virginia University with a bachelor's degree in business administration.
About Square Root:
Headquartered in Austin, TX, Square Root is a leading enterprise SaaS provider in the operations performance management space. The company's rapidly growing team of technology innovators delivers advanced data insights and high impact software tools to some of the biggest retail channel players. Customers span the automotive, energy, and consumer goods sectors. Square Root's CoEFFICIENT® platform helps large businesses optimize operations and make smarter, data driven decisions every day. As a private, bootstrapped company, Square Root has achieved profitability every year since it began doing business in 2006 – a rare feat in the capital intensive technology startup world.