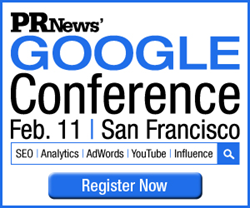 San Francisco, CA (PRWEB) January 29, 2015
Google is so much more than the world's largest search engine. It's an organization's digital gateway to the world. For this reason, PR News is holding its first full-day Google Conference on February 11 in San Francisco that will home in on SEO, analytics, AdWords, YouTube, influence and so much more. The PR News Google Conference is programmed to be an educational springboard for PR practitioners and communicators who are looking to leverage Google for their brand. Starting at 8 a.m. and ending at 4 p.m., this focused training will provide critical tools, strategies and insights that communicators need to take their Google efforts to the next level in today's communications environment.
Attendees will receive instruction from members of the Google team as well as other experienced professionals from Finn Partners, Transamerica, Adobe and the Human Rights Campaign who will give you detailed information on how to make Google work for your initiatives. Read more about the Google Conference here: http://www.googleconference2015.com.
On February 10, the day before the Google Conference, a Writing Workshop for communicators will take place from 12:30 p.m. to 4:30 p.m. Participants will learn and practice the skills needed to be a good PR writer and create appealing content for a variety of channels. Writing Workshop attendees will also learn how to avoid bad writing habits and using clichéd language that can dull the impact of their content.
View the Full Writing Workshop Agenda here: http://www.googleconference2015.com/writing-workshop-agenda/.
Google Conference and Writing Workshop Trainers Include:

Adam Singer, Analytics Advocate, Google
Barry Reicherter, Partner, Digital Insights, Finn Partners
Angie Larsen, Senior Manager of Corporate Relations, USANA Health Sciences
Anastasia Khoo, Director of Marketing, Human Rights Campaign
Allan Gungormez, AVP of Digital Marketing, Transamerica
Kevin Dando, Senior Director, Digital Marketing & Communications, PBS
Christopher Penn, Vice President, Marketing Technologies, SHIFT Communications
Andrew Hindes, President, The In-House Writer
Joie Healy, Senior Manager of Social Media Communications, Cisco
Complete List of Trainers: http://www.googleconference2015.com/speakers
The PR News Google Conference and Writing Workshop are information-packed events that are tracking to sell out weeks in advance. Register now at http://www.googleconference2015.com/.
Thanks to the Event Sponsor: Business Wire.
For questions regarding this conference, contact PR News' Laura Snitkovskiy at laura(at)accessintel(dot)com. For sponsorship information, contact PR News Senior Vice President & Group Publisher Diane Schwartz at dschwartz(at)accessintel(dot)com.
PR News is a daily intellectual hub that serves the communications and marketing community at corporations, agencies and nonprofits. The PR News Group focuses on honing and growing PR practitioners' skills in social media, crisis management, digital PR, measurement, employee relations, media training, CSR and writing through its flagship newsletter, webinars, conferences, awards programs, workshops and guidebooks. With the launch of its weekly newsletter over 70 years ago, PR News has remained dedicated to supporting the growth of communicators all while keeping them abreast of the latest news affecting the industry. For more information, please visit http://www.prnewsonline.com.