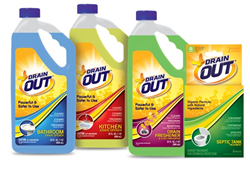 FORT WAYNE, IN (PRWEB) January 29, 2015
Summit Brands has introduced DrainOut®, a new line of drain cleaners that combines high-performance clog removal with environmentally safe formulas for remarkable consumer friendly results. The color coded packaging features a full shrink-wrapped proprietary bottle which stands-out graphically in a category typified by power images and masculine color schemes. The three liquids are each designed for specific drain issues; DrainOut® Bathroom Drain Opener clears tough hair and soap clogs, DrainOut® Kitchen Drain Opener blasts through tough grease and food debris and Drain Freshener/Clog Preventer removes build-up while leaving a fresh citrus scent. DrainOut® is truly a new concept to clean in the drain category.
"When we looked at the drain cleaning category we saw effective yet highly caustic products and ineffective environmentally safe products while consumers wanted a solution that would deliver both. With DrainOut's unique formulas we have wedded effectiveness to environmentally safe. We're excited to bring all the qualities that consumers want and need with our new drain line," said Tony Cronk, Sr. Vice President of Sales & Marketing for Summit Brands.
DrainOut® Bathroom Drain Opener, Kitchen Drain Opener and Drain Freshener & Clog Preventer will carry a suggested retail price of $4.39.
About Summit Brands
Summit Brands is privately owned and operated in Fort Wayne, IN. Formerly Iron Out, Inc., the company started with distribution of their multi-purpose rust stain remover, Super Iron Out, in the Midwestern United States and has since grown to national and global distribution. Summit Brands provides solutions on five platforms from appliance cleaners to water treatment. Since its founding in 1958, Summit Brands has exceeded customer expectations through compliance, innovation and continuous improvement on high quality cleaning products that solve the toughest rust stain, laundry and appliance cleaning problems. Some of their top selling brands include Super Iron Out®, Dishwasher Magic®, White Brite®, Woolite® At-Home Dry Cleaner, Glisten®,Plink®, Disposer Care® and Washer Magic®.
For more information about Summit Brands or their product lines, please contact info(at)summitbrands(dot)com or visit the website at http://www.summitbrands.com.