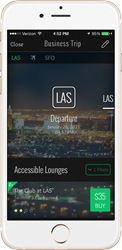 San Francisco, CA (PRWEB) January 29, 2015
LoungeBuddy, the only single resource for travelers to discover, book and access airport lounges around the world, and Airport Lounge Development Inc. (ALD), the leading U.S. independent shared-use lounge developer, today announced their formal partnership, allowing travelers passing through ALD's The Club Airport Lounge locations in the United States to instantly purchase lounge access through the LoungeBuddy mobile App using Apple Pay or a major credit card.
"Airport Lounge Development has crafted a unique experience at each of their Club Airport Lounges, which provide a fantastic option for travelers who are looking for a private space to get away from the chaos of the airport terminal. We're excited to be able to offer our LoungeBuddy customers access to The Club airport lounges," said LoungeBuddy founder and CEO, Tyler Dikman.
Available to all passengers regardless of carrier, class of ticket or affinity membership for $35, The Club Airport Lounges offer customers access to a variety of amenities including free snacks and beverages, complimentary high speed Wi-Fi, bar service and work stations with PC's and printers.
"We are thrilled to partner with LoungeBuddy allowing travelers the ability to book immediate access to our network of Clubs," said Nancy Knipp, senior vice president at Airport Lounge Development. "As Airport Lounge Development continues to grow our Club Airport Lounges network, our LoungeBuddy partnership will allow all travelers a convenient way to access our Clubs, enhancing their travel experience and providing a sanctuary from the airport terminal crowds."
Travelers passing through airports with The Club locations, including Cincinnati (CVG), Dallas-Fort Worth (DFW), Las Vegas (LAS), Phoenix (PHX), San Jose (SJC) and Atlanta (ATL), now have the option to instantly purchase a lounge day pass directly from their iPhone. All Club locations offers an all-inclusive, affordable and hospitable experience for any traveler who is looking for a place to relax, be productive or simply spend time with family, friends or business colleagues while traveling.
About LoungeBuddy
LoungeBuddy is the only single resource for travelers to be able to discover, book and access airport lounges around the world. Hundreds of thousands of members use LoungeBuddy to discover their perfect airport oasis and improve their travel experience.
LoungeBuddy covers over 2,000 airport lounges in more than 600 global airports. The free LoungeBuddy App is available on iOS and Android. To learn more about LoungeBuddy, visit http://www.loungebuddy.com.
About Airport Lounge Development Inc.
Operating since 2006, ALD is now the U.S. leader in independent shared-use lounges offering an affordable hospitality experience for travelers on any airline and traveling any class of service. ALD specializes in the design, construction, operation, management and marketing of independent shared-use airport lounges. ALD's experienced leadership team is known for delivering a turnkey lounge solution tailored to the airport's needs and supported by an established customer foundation.
ALD's seven lounge locations are: The Club at CVG, located at Cincinnati/ Northern Kentucky International Airport; The Club at DFW, located in Dallas/Fort Worth International Airport; The Club at LAS in Terminals 1 and 3 in Las Vegas' McCarran International Airport; The Club at PHX, located in Phoenix Sky Harbor International Airport; The Club at SJC, located in Mineta San Jose International Airport and The Club at ATL, located in the Hartsfield-Jackson International Airport. http://www.airportloungedev.com.
ALD is part of the Collinson Group, a global leader in shaping and influencing customer behavior to drive revenue and value for its clients. It offers a unique blend of industry and sector specialists who together provide market-leading experience in delivering products and services across four core capabilities: Loyalty, Lifestyle Benefits, Insurance, and Assistance. The Collinson Group has 25 years' experience, with 28 global locations, servicing over 800 clients in 170 countries, employing 1,500 staff, and managing over 20 million customers.
MEDIA CONTACTS:
Brent Griffith
VP of Marketing at LoungeBuddy
E-mail: brent(at)loungebuddy(dot)com
Nancy Knipp
Senior Vice President at Airport Lounge Development Inc.
E-mail: nancy.knipp(at)airportloungedev(dot)com