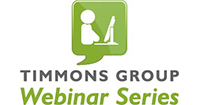 Richmond, VA (PRWEB) January 27, 2015
Timmons Group, a leader in innovative geospatial solutions, announced today their upcoming webinar on "Delivering Awesome Apps with Agile" scheduled for February 12, 2015 from 2-3PM EST. Presented by Senior Project Managers Mindia Brown and Stephanie Brolund, this webinar will focus on application development and how using the Agile method will benefit the end-user, client, and product.
"Adopting Agile techniques means that web and mobile applications are built in successive iterations, each of which produce functional product slices for the client to review," said Brolund. "We believe delivering working software early and often produces a higher quality product, resulting in continual feedback, review and guidance."
During the webinar, Brown and Brolund will concentrate on the benefits of agile delivery, go in depth about how it works and what to expect, how to organize your project team for success, and provide an example cadence of events.
To register for this educational webinar, click here.
About the Presenters:
Mindia has 8 years of experience as a Senior Project Manager for Timmons Group. She fills various roles on projects depending on the unique project situation. The roles include business analyst, subject matter expert, interface designer, and project manager / scrum master. She enjoys solving the challenging puzzles of improving how information flows throughout land management organizations. Mindia is also a Certified Scrum Master and has exceptional experience running complex teams of developers to deliver solutions to clients.
Stephanie has over 16 years of experience within the technology industry. Her expertise includes team and project management, software implementation, requirements gathering and analysis, agile delivery, and agile coaching/training. She enjoys continuously bridging the gap between business and technology to improve teams, processes, and communication. Stephanie has over 7 years of experience working in Agile software development and is a Certified Scrum Professional, Certified Scrum Master, and Certified Scrum Product Owner.
About Timmons Group
Timmons Group is a leading provider of geospatial, information architecture and engineering services focusing on developing intuitive, enterprise geospatial web applications, highly-usable, cross-device mobile applications, and integrated, geospatially-enabled enterprise solutions. Timmons Group develops innovative solutions across multiple platforms, including web, web-based mobile / HTML5, and native mobile operating systems. Timmons Group is a privately held ENR 500 company and maintains a strong business partner relationship with Esri. Timmons Group has been a recipient of both the Esri Business Partner of the Year award and the Esri Foundation Partner of the Year award. For more information, visit http://www.timmonsgis.com.