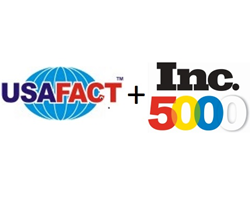 "It's an honor and a privilege for us to be listed with Inc. Magazine's annual 5000 fastest growing private companies in America,"- Matthew Davidson, CEO
Riverside, CA (PRWEB) January 28, 2015
USAFact, a U.S. based background check organization that provides pre-employment screening services to businesses, is proud to announce that they have been recognized as one of the 5000 fastest growing companies in America, according to the 2014 Inc5000 list. USAFact was started over 37 years ago and provides businesses with the most comprehensive employee screening services, allowing businesses to improve employee retention and increase productivity.
"It's an honor and a privilege for us to be listed with Inc. Magazine's annual 5000 fastest growing private companies in America," said Matthew Davidson, the Chief Executive Officer of USAFact. "We've grown tremendously in the past 4 years and it's all due to our experienced and dedicated client-centric team. It's our core belief that giving each client the dedicated level of attention that they need leads to all parties gaining mutual stability and growth. Rebranding our Drug Testing and Background Screening Divisions under the strategic RapidFACTTM logo, and sharpening our services sold under the USATenantTM logo were fundamental steps in displaying the required 4 years of focus, stability, and growth for our 2014 award."
The Inc. 5000 award was first introduced by the magazine in 2007 to showcase the most rapidly growing privately held companies in the United States. Inc5000 award recipients are ranked on their percentage revenue growth over a four-year period. Each company on the list must be able to show four full calendar years' worth of sales. Furthermore, each company has to be privately held, U.S.-based, and independent. They cannot be subsidiaries or divisions of other companies. USAFact got its start in the Investigative Services more than 37 year ago. Since its humble beginnings, it has grown into one of the leading background and employment screening companies in the Industry. Matt Davidson has ensured that the company provides the same level of service, and the same family-run feel, as it did when it first opened its doors. "Being awarded as one of the 5000 fastest growing private US companies is a wonderful milestone for us. As part of the time frame considered for the 2014 announcement, we averaged over 61% in revenue growth from 2011-2013. 2014's annual percentage growth has wrapped up excellent as we again throw our hat back into the competition for scrutiny by this year's judges. Furthermore, 2015 has already shown 58% growth over last January, with the month's books still 1 week from closing."
Inc. was first started in 1979 in Boston, MA. To learn more about the magazine and the award visit http://www.inc.com/inc5000/index.html.
About USAFact, Inc.
USAFact is a leading provider for pre-employment background checks and screenings for companies in the United States. Offering a variety of screening packages for businesses of all sizes, from small non-profit to Fortune 500, USAFact provides services custom-tailored to their individual needs.
To learn more about USA Fact visit their website at http://www.usafact.com or call (800) 547 – 0263.