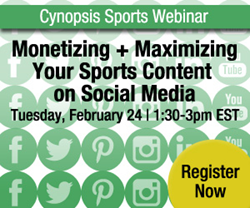 New York, NY (PRWEB) January 30, 2015
As sports continue to blaze the trail and harness social media audiences, learn how savvy content producers are maximizing engaged audiences to monetize connections. That is why Cynopsis Sports will host an interactive webinar on Monetizing and Maximizing Your Sports Content on Social Media, in which sports leaders share tactics and strategies that will help attract and connect sports properties across multiple social media platforms.
This webinar will reveal the best practices and strategies to turn a mere following into a powerful revenue channel and help partners and fans alike connect across multiple platforms, from mobile to tablet.
Cynopsis Media's Director of Sports Content, Chris Pursell, along with the following experts, will host the February 24 webinar:

Nick Freeman, VP of Sales Integration - Fox Sports Digital
Jeramie McPeek, VP of Digital - NBA's Phoenix Suns
Daren Trousdell, Founder & CEO - OneUp Sports
During this information-packed 90-minute webinar, attendees will learn how to:

Optimize content for the highly-devoted sports audience and keep the message organic
Determine which data is instrumental for platforms and content to be effective for both sports fans and sponsors when it comes to the digital value of athletes, teams, and leagues
Leverage the marketing shift from simply measuring "likes" to measuring amplification, cross-channel impressions, and more
Team up for effective social sponsorships that increase the personal, group, and community identity that's so critical to dedicated fans
Unlock the latest methods to use second-screen experiences to glean more actionable data from the audience via subscription services and one-off sporting events, both live and televised
This highly interactive webinar will allow for real time Q&A's to ensure specific questions are answered. Register today for the Cynopsis Sports "Monetizing & Maximizing Your Sports Content on Social Media" webinar.
All webinar attendees will receive full access to speaker presentations for 1-year, along with a certificate of completion. Webinar tuition is based on location, not number of participants, so each registration site can have multiple participants for one low price. Questions? Contact Trish Pihonak at trish(at)cynopsis(dot)com.
About Cynopsis Media:
Cynopsis Media is a division of Access Intelligence LLC. The Cynopsis Media family of products includes Cynopsis, Cynopsis Digital and Cynopsis Sports daily e-publications, weekly Cynopsis Classified Advantage e-publication, Special eReports, Event/Summits and a strong database of Classifieds and more. Visit cynopsis.com.
###