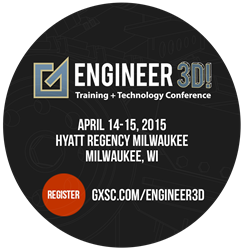 Whether you're looking for SOLIDWORKS training, ways to improve your engineering processes, or evaluating new technologies, we've designed Engineer 3D! to accelerate your success!
Milwaukee, WI (PRWEB) January 28, 2015
Graphics Systems Corp. announces the Engineer 3D! Training + Technology Conference held on April 14-15, 2015 at the Hyatt Regency in Milwaukee, WI. The two-day event brings together hundreds of engineers and technology leaders to take part in unique training sessions, hands-on workshops, cutting-edge engineering technology exhibits, networking receptions, and more.
The conference kicks off on April 14, 2015 with special guest presenter Erik Buell, President and CEO of Erik Buell Racing, Inc. who will share how his company develops and innovates their best-in-class motorcycles. Attendees will also see the latest innovations in 3D engineering technology in the Partner Pavilion, meeting one-on-one with technology experts and Graphics Systems' world-class instructors.
The highlight of Engineer 3D! is the 80+ technical training sessions, seminars, and hands-on workshops across 6 solution tracks for: SOLIDWORKS 3D CAD, 3D Printing, Simulation, Data Management, Design Automation, Product Documentation, and Electrical Design. Attendees can customize their individual agendas to best suit their needs and interests.
"We've created an agenda for everyone," says David Kasinskas, President of Graphics Systems. "Whether you're looking for SOLIDWORKS training, ways to improve your engineering processes, or evaluating new technologies, we've designed the Engineer 3D! Conference to accelerate your success!"
"Engineer 3D! is a great place to learn about a wide variety of topics from beginner to advanced, general to specific. Lectures as well as hands-on sessions maximize your time to pack a lot of information in two days," says John Setzer, Training Coordinator at Graphics Systems. "To be able to get up to nine breakout sessions across two days for less than the cost of a class is a phenomenal training value!"
Attendees may choose from a Full Conference Pass, 3D Printing Pass, or Electrical Design Pass. Graphics Systems is currently running an early-bird special where attendees can save $120 on the purchase of a two-day conference pass if bought before February 27, 2015.
For more information or to register, please visit http://www.gxsc.com/engineer3D.
About Graphics Systems Corp.
Graphics Systems Corp. assists companies in implementing 3D engineering capabilities for design, simulation, data management, technical documentation, and 3D printing. A local engineering technology expert since 1989, Graphics Systems Corp. partners with companies in Illinois, Wisconsin, and Michigan to improve product design and engineering efficiency.
Graphics Systems is the Midwest's leading provider of Dassault Systèmes SOLIDWORKS and Stratasys solutions, consulting, support, and training. Their world-class team of dedicated professionals provide thousands of companies with unparalleled sales, service, training, and support.
For more about Graphics Systems and to learn more about our support offerings, please visit our website, http://www.gxsc.com, or call 800-454-2233.