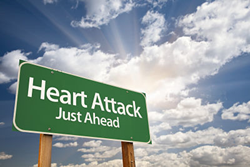 Once we know people's true risk of heart disease, we can then be more aggressive with natural treatments to reverse heart disease
Calgary, AB (PRWEB) January 28, 2015
We just finished the busy holiday season. Christmas and New Years day has come and gone, but unfortunately may have left a little heart attack or stroke risk behind.
New Year resolutions are made and people want to get active. Are people at risk of a heart attack or stroke? The Heart Fit Clinic is the only clinic in Calgary providing a thorough cardiovascular disease risk profile with state of the art screening tests to help people truly understand their risk of a heart attack or stroke.
People who have high blood pressure, high cholesterol, overweight or inactive are at increased risk. People can see a cardiologist yet still be on the path of a heart attack or stroke. Why is that? Cardiologists will perform non-invasive cardiology tests such as a exercise stress test and an echocardiogram. The concern is that a stress test will only show advanced stages of the disease (70-80% blockages or more), therefore people can be on the path of a heart attack yet still receive a clean bill of health.
The Heart Fit Clinic bridges the gap. They focus on cardiovascular disease screening tests that may not be available at your doctors office. Giving the ability to determine their risk of a heart attack or stroke before it actually can occur, on a subclinical level.
"Once we know people's true risk of heart disease, we can then be more aggressive with natural treatments to reverse heart disease" says clinic director, Diamond Fernandes. Fernandes goes on to say that heart disease is reversible and that once people know they are at risk they can get on a healthy path to minimize that risk.
What if people knew that there is going to be an accident on the highway going home from work. People have two options. Number one is to drive that highway and get stuck, or number two is find a clean route to get home. People now have this option with their heart health. They can choose to stay on the unhealthy highway, or get off and onto the healthy highway, and follow the Heart Fit Clinic's heart healthy advice.
For more information about the Heart Fit Clinic please visit their website.