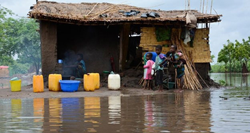 WWFA's Founder and President, Mr. Kurt Dahlin. Dahlin stated, "Many drinking water sources have been completely submerged and contaminated. This very likely includes some of the wells we've established over our 19 years of work in Malawi."
Manhattan Beach, California (PRWEB) January 28, 2015
As their name implies, Water Wells for Africa (WWFA) normally provides clean water to people with no (or poor quality) water. However, due to conditions in Malawi, they are now helping people purify some of what has become a temporary and highly destructive overabundant resource: water.
Malawi, Africa: The country of Malawi's Department of Disaster Management Affairs says that approximately 200,000 people have been completely displaced by floods that began in December 2014 and continue today. About 370,000 people require relief assistance according to the United Nations World Food Program. So far more than 60 deaths have been confirmed, and over 150 people are still missing.
Malawi President Peter Mutharika recently designated 17 of the country's 28 national districts as disaster areas. WWFA has installed wells in 11 of these 17 flooded zones, some of which are currently so difficult to reach that they still have not been assessed. Early reports say this is Malawi's worst flood season on record, with more than 250 square miles are under water.
In general, the news coming out of Malawi is bad. Large areas in the south of the country are under water, and homes, crops, and livestock have been washed away. WWFA will make use of their local contacts and large network of pre-existing local Malawian volunteers already on the ground. They know the land and roads, and they have relationships with the villages in need.
The prevention of waterborne diseases such as malaria, cholera, and diarrhea have become a priority, according to WWFA's Founder and President, Mr. Kurt Dahlin. Dahlin stated, "Many drinking water sources have been completely submerged and contaminated. This very likely includes some of the wells we've established over our 19 years of work in Malawi." He and the WWFA team are working to distribute water purification "kits," hygiene information, and whatever other aid they can offer affected communities.
Water Wells for Africa, a 501(c)(3) nonprofit organization that since 1996, promotes rural African
community development by providing sustainable water sources and reducing health risks associated
with contaminated water. Photos available upon request.
We urgently request your support as we lend a hand to our many friends in Malawi.