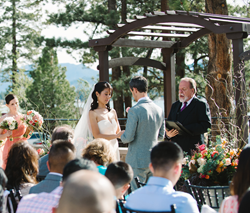 We stay on top of up-to-the-minute trends for our brides, offering them with personalized Lake Tahoe twists.
South Lake Tahoe, Calif. (PRWEB) January 29, 2015
Celebrating its first anniversary, The Landing Resort & Spa, Lake Tahoe's only five-star boutique lakeside resort, has become a favorite for brides who embrace the glorious "something blue" lake-view location for dramatic wedding ceremonies, receptions and photos. Couples can enjoy an elegantly customized event that's planned to the last detail, and The Landing's Director of Catering & Weddings Lisa Gallup offers brides her take on some 2015 wedding trends, providing the best and latest in ceremonies, receptions and more – always personalized with The Landing's luxurious and uniquely Lake Tahoe approach.
"With the big role of social media sharing, creating a unique wedding that is specifically 'branded' to the couple is so important – as is having a really standout location visually," says Gallup. "At The Landing we're so lucky to have our rooftop deck for beautiful ceremonies with close-up lake and mountain views, as well as Lakeside Beach for romantic images of couples walking in the sand. And the hotel's design makes getting great photos easy, including stonework that provides a lovely backdrop for detail shots," she says. "We stay on top of up-to-the-minute trends for our brides, offering them with personalized Lake Tahoe twists that are unique to The Landing."
Wedding trends that Gallup notes for 2015 include:

First Looks: "More couples are arranging this opportunity to see each other before the ceremony, both for a very intimate moment together before all the craziness, as well as to take photos without eating into reception time," says Gallup. The Landing twist: scenic settings like the rooftop deck and Lakeside Beach offer a chance for the couple to connect outdoors in the fresh Tahoe air – and unique photo opps.
"Personalize-it" Champagne Bars: "Champagnes and sparkling wines are coming on strong for 2015, and special champagne bars where guests can create their own sparkling cocktails also tie into the trend of engaging guests with a more participatory role." The Landing twist: the influence of British celebrity chef Maria Elia and her Greek-inspired cuisine for Jimmy's Restaurant makes for some exotic ideas for champagne bar add-ins.
Food Kits as Favors: "Doubling as couple's favors, these adorable take-along kits offer wedding guests a scrumptious late night snack or morning-after hangover treat." The Landing twist: Chef Elia's wizardry with small plates delighted celebrity guests including Heidi Klum at The Landing's grand opening a year ago; wedding guests can enjoy the same level of "snack"-size gourmet cuisine.
Drink Stations: "This trend provides drink options in a beautiful way that also avoids traffic jams at the bar – offering flights of craft beer, wine samplings, or different types of sangria (even in an ombre-colored effect going from white to red)." The Landing twist: The bar at Jimmy's features an award-winning wine cellar and locally sourced libations for a real sense of place via selections of craft beers and wines – or Jimmy's signature Greek Mojito cocktail.
From pampered bride and wedding party spa treatments to a dream ceremony on the 3,600-square-foot Grand Rooftop Terrace overlooking the lake and beach to a spectacular reception in one of a variety of indoor/outdoor venues personalized to the last detail, The Landing's flawless service extends to every element of the special day. For smaller groups, Jimmy's Restaurant provides an intimate setting – or couples can opt to offer guests a post-reception "late night snacking" menu.
For the ultimate in ease and convenience, the boutique 77-room size of the hotel lends itself to wedding buy-outs of the entire resort. "Guests may hand over their car keys to our valets and never have to get back into their cars from pre-wedding parties through post-reception activities," explains Gallup. "And The Landing's Mercedes Sprinter is available to whisk them to the casinos for multiple entertainment options."
Fun-loving wedding parties can take a post-ceremony ride on The Landing's complimentary beach cruiser bikes decorated with "just married" signs down Lakeshore Drive for an only-in-Tahoe photo opportunity. Grooms and groomsmen might relax at next-door Edgewood Golf Course, and the nearby Lakeside Marina offers a full range of summer water activities, while Tahoe's renowned ski areas offer multiple skiing options for winter weddings.
About the Landing Resort & Spa:
The Landing Resort & Spa is walking distance to the concerts, nightlife, dining and shopping of South Lake Tahoe. Just blocks from Heavenly Village and Gondola, and Village Center, The Landing provides complimentary Mercedes transport locally. Lake Tahoe's first five-star boutique lakeside resort, The Landing opened in December 2013 with extensive media coverage including in The New York Times, SKI magazine and Robb Report. For additional information and reservations contact 855.700.5263 or visit http://www.thelandingtahoe.com.
Contact: Darla Worden, WordenGroup Public Relations, darla(at)wordenpr(dot)com, 303.777.7667