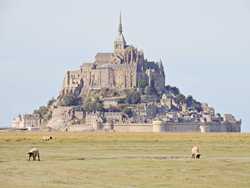 I use my word-brush to paint satisfying stories that acquaint readers with some of the most marvelous places and moments in history.
Salt Lake City, UT (PRWEB) January 29, 2015
When Kathleen C. Perrin told her parents that she wanted to major in French in college, they said it wasn't "practical" and especially warned her not to come home from a semester abroad in France married to a Frenchman. Fortunately, she didn't listen. During her time at Brigham Young University, she met and married a handsome Frenchman and went on to become an accomplished French speaker, writer, translator, and interpreter.
Kathleen's love of French culture encouraged her to spend years exploring France's beauties and discovering its mysteries with her family, even taking groups of tourists to France and to Mont Saint Michel for a ten-year period. Her latest passion is sharing France through her historical suspense fiction. Her experience as a tour guide at Mont Saint Michel inspired her to write her new adult historical paranormal novel, The Keys of the Watchmen, which is the first of a planned three-novel series.
Critics are calling Keys of the Watchmen "Captivating," "A great page-turner," and "a wonderful historical fiction book!" Advance readers are equally thrilled. "Couldn't put it down!" and "left [. . .] wanting more!" are some of the review comments.
Perrin has carved out her own path---or destiny, rather---by mingling her inherent love of storytelling with her deep understanding of and love for French history and culture. She described it best in Meridian Magazine in a recently published an article entitled, "Writing My Own Destiny.": "I loved how—like colors—words could create somber scenes or capture bright, blissful moments. [. . .] I use my word-brush to paint satisfying stories that acquaint readers with some of the most marvelous places and moments in history." Her passion for France, writing, and the New Adult paranormal genre guided Perrin to share Katelyn's destiny in The Keys of the Watchmen.
The Keys of the Watchmen can be found on Amazon in both paperback and Kindle formats.
For more information about this novel, or to schedule an interview with Kathleen, please visit http://www.kathleencperrin.com or contact Amy Osmond Cook at amy@osmondmarketing.com.
About The Keys of the Watchmen, Volume 1
Katelyn Michaels plans on hating every moment of her visit to Mont Saint Michel with her father's new French wife. However, once there, she is confronted by an unusual series of people, events, and a strange medallion that ultimately fling her into the past, to 15th-century France. She is then faced with a mission to save Mont Saint Michel, despite feelings of confusion and inadequacy, not to mention a strange attraction to the alluring, yet ill-tempered Nicolas. Will she stay to learn why she was chosen by the Archangel Michael and find a way to save his mount? Only she can determine her destiny.
About Kathleen C. Perrin
Kathleen C. Perrin graduated summa cum laude from Brigham Young University with degrees in French and Humanities. While completing her education, Kathleen met and married a dashing young Frenchman. They have spent years investigating the mysteries and beauties of his native country and have a cottage in Brittany. For a ten-year period they took tourists to Mont Saint Michel, where she served as tour guide. She has published several non-fiction articles, academic papers, and a religious history about Tahiti. The Perrins have three children and currently reside in Utah.