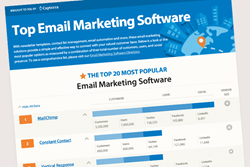 Email marketing software is a must-have for any small business looking to grow.
Arlington, Va (PRWEB) January 28, 2015
Capterra, an online service that helps businesses find the right software, today published a new infographic detailing the Top 20 Most Popular Email Marketing Software Solutions. This study is the first of its kind in a series of Top 20 rankings, and Capterra's first infographic in the email marketing space. MailChimp, Constant Contact, and Vertical Response take the first 3 spots.
This research is based on Capterra's popularity index, which combines number of customers, number of users, and social presence to measure popularity. The index has been used to rank more than 20 industries to date, most recently Fleet Management, Salon Management, and Business Intelligence.
Email marketing software allows companies and marketers to automate nearly all of their email campaigns. With newsletter and template design, contact management, and engagement reporting, this software is designed to help companies reach their target customers efficiently and successfully.
"Email is only a few decades old, yet has become a communication standard. More than half of U.S. internet users check their email more than once per day. As a result, it has been identified as an effective, budget-friendly way for businesses to directly connect with their customer base," said Capterra President and CEO, Michael Ortner.
"Email marketing software is a must-have for any small business looking to grow. With this new research, small-business owners--and marketers at companies of any size—are able to get a quick grasp of the most popular solutions that are out there."
About Capterra: Capterra believes software makes the world a better place. Founded in 1999, Capterra has helped millions of people find the right software for their business-- all kinds of businesses—whether a multinational corporation, a school, a church, a doctor's office, a manufacturing company, or a zoo. Capterra works with thousands of software vendors to understand their products in order to match companies with the best software for their needs. Check out http://www.capterra.com to find software ratings, reviews, buying guides, and the most comprehensive list of business software products available.