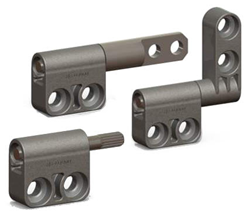 Customers are delighted with its out of the box performance and the ease with which they can design it into their products
Saint Paul, MN (PRWEB) February 04, 2015
With an annual growth rate of more than 100%, the Reell RT Series of position hinges continues to surpass sales projections and gain market share. Its is finding application in a diverse range of markets including automotive, airline and train interiors, point-of-sale kiosks, office and medical equipment, industrial enclosures, lighting and camera positioning, as well as in many military applications.
Available in three families with three shaft-end attachment options, and torques from 3 to 50 lb-in, the RT Series is Reell's most versatile catalog hinge. With a fully qualified life of over 50,000 cycles, it raises the bar for long-life premium position control, while it's symmetric mounting simplifies designs and ensures correct installation.
Global product line manager John Schannach is pleased with the response from the market. "We are very excited about the sales growth of the RT series. As Reell's most versatile position hinge, it's wide range of available torques and mounting options allow us to provide a standard positioning solution in more applications than ever before, and customers are delighted with its out of the box performance and the ease with which they can design it into their products."
Reell Precision Manufacturing provides high-quality innovative solutions to transmit torque, control angular position and protect delicate components from excessive force. Combining the world's most precisely controlled torque technology with the industry's most experienced engineering team provides a perfect product fit in customer applications. Reell's patented technology is widely used in the consumer electronics, automotive, aircraft interiors, medical technology, workstation furniture, kiosk/data terminal, and architectural lighting industries.
Follow Reell on twitter: @reell