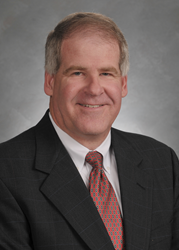 Dave will focus on accelerating the company's growth and brand presence in the APAC Region...
Denver, Colorado (PRWEB) January 28, 2015
Gates Corporation, a global diversified manufacturer of industrial, automotive, and heavy-duty aftermarket products, announced today that Dave Miller has been promoted to Vice President Aftermarket Global Marketing and Product Management. Dave will focus on accelerating the company's growth and brand presence in the APAC Region, with specific emphasis on the rapid growth of the China Aftermarket. In addition, he will work with the team in China to apply best-in-class practices to the Automotive Aftermarket in China and continue to drive the North American New Product Commercialization efforts and lead the Catalog team.
As a part of this reorganization, Scott Howat has been promoted to Director of Marketing and Product Management for the North American Aftermarket. Scott joined Gates in the summer of 2014 after a long and successful career in sales, marketing, product management, brand strategy, and corporate communications at the Affinia Group, Dana, and Echlin. In his new role, Scott will continue to lead the Marketing Activation, Training, and End Market Sales Growth/Field Technology teams, but will now also manage the Power Transmission and Fluid Power Category Management teams and Pricing support for the North American Aftermarket.
For more information about Gates Corporation, please contact Scott Howat at 303-744-4654.
About Gates Corporation
Gates Corporation is the world's leading manufacturer of power transmission belts and a premier global manufacturer of fluid power products. Our highly engineered products are critical components used in diverse industrial and automotive applications where the cost of failure is very high relative to the cost of our products. We provide a differentiated value proposition to our customers by offering a complete portfolio of premium product and service solutions for both replacement and first-fit applications across our targeted end markets, which encompass process and specialty, construction, agriculture, energy, transportation, and automotive. We sell our products globally under the Gates brand, which is recognized by distributors, original equipment manufacturers, and installers as the premium brand for quality and technological innovation, a reputation which we have built for over a century since our founding in 1911.
As an engineering leader with a strong foundation in research and development, Gates is committed to advancing the science of motion performance by developing safe, forward-thinking products, services, systems, and solutions, as well as fostering long-term customer and employee relationships. Headquartered in Denver, Colorado, Gates employs over 14,000 people across 106 locations in 30 countries.
If it moves you, there's a good chance Gates has a part in it.
Gates. Powering Progress.