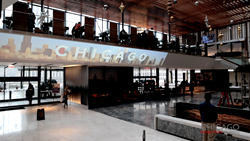 As a local company we have a lot of flexibility
Chicago, IL. (PRWEB) January 28, 2015
As a hub for national and international conventions, Chicago can be a perpetual destination, filled with travelers and conference attendees who often may not often leave the grounds of local hotels. Chicago-based media production company Absolute Vision Media Productions is well position to lend such out-of-towners a local touch this convention season. Because convention centers and hotels often become a hub of activity, those throwing the convention or conference want those events to be documented, both for promotional purposes and for professional purposes. But it can be logistically problematic and financially dubious to pay for out-of-state crews to facilitate those services.
Absolute Vision Media Productions is a company that has a long pedigree of covering the convention scene, both for hotels and for businesses holding conferences. Any convention, after all, is a complex collection of many moving parts, including meeting video and audio demands. Absolute Vision Media Productions gives convention organizers a great local resource so they can avoid the expense and hassle of flying in their own assets. This saves both time and money, and also means that clients can take advantage of the good relationships Absolute Vision Media Productions has developed with local partners at convention centers, hotels, and vendors. Additionally, a local crew provides greater flexibility in terms of what can be accomplished.
"If a client changes their mind and suddenly wants a promo with tracking shots or we decide we need a drone to accomplish a shoot the way the client envisions it, that's within our capabilities," Mark Smith, founder and owner of Absolute Vision Media Productions said. "If you were contracting with non-local company, it could take days to get the right equipment here. We've just got to go right back to the shop, so that's definitely an advantage we like to bring to the table." Other advantages Smith mentioned include a good knowledge of Chicago: the best areas to get a quiet shot of the sunset or the best place for an interview with an iconic view of the skyline in the background.
View Sample Video Gallery
By offering clients on-site services as well as convenient post-production services, Absolute Vision Media Productions is well positioned to appeal not only to non-local clients who are looking at Chicago as a convention and conference venue, but also to those venues themselves. Hotels and convention centers looking to advertise and appeal to new clients can take advantage of partnerships with Absolute Vision Media Productions to create new promotional material and to offer clients an easy way to connect with their own media production services. Indeed, Chicago has a wide variety of media production services, and that can make searching for one a frustrating endeavor. By taking advantage of already-cemented relationships, this search can be easy with excellent results to show for it.
If you're interested in media services for your upcoming convention or conference, Absolute Vision Media Productions is well positioned to offer everything that might be requested. For a quote or for more information, contact Absolute Vision Media Productions at info(at)AbsoluteVisionProductions(dot)com.
About Absolute Vision Media: Absolute Vision Media Productions is a Chicago-based media and production company, and part of the Absolute Vision Media Inc. creative group. Whether for agency-style media, professional video production, local production crew, or general marketing and advertising, Absolute offers national-level experience with local connections and know-how for corporate, educational, commercial, and creative purposes. To learn more, visit http://www.AbsoluteVisionProductions.com.