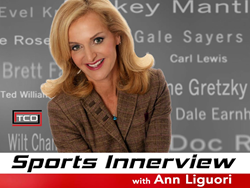 Westhampton, New York (PRWEB) January 29, 2015
Ann Liguori Productions and Total Content Digital are pleased to announce that a variety of award-winning 'Sports Innerview with Ann Liguori' shows are now available for viewers to stream on Hulu.
Click to watch on Hulu: http://www.hulu.com/sports-innerview-with-annliguori
Click here to see the first 20 episodes on Hulu: http://www.hulu.com/grid/sports-innerview-with-ann- liguori?video_type=episode
Sports talk personality, reporter and author Ann Liguori interviewed over 600 sports and entertainment legends from 1989-2006 as part of her breakthrough 'Sports Innerview with Ann Liguori' weekly series that aired on regional sports cable networks throughout the country and featured Ann interviewing top legends in sports including Mickey Mantle, Ted Williams, Bob Feller, Wilt Chamberlain, Sam Snead, Dale Earnhardt, Charles Schulz, Hank Aaron, Jim Brown, Billie Jean King, to name a few. The program became the longest-running sports interview series hosted, owned and produced by a woman.
The show features three, 6-7 minute segments with each legend as they discuss his/her career, their opinions on issues at the time and anecdotes about their lives and success stories. Ann's conversational style and keen insight on a wide variety of issues and subjects with her fascinating guests propelled the series to its historic 17-year run. The series was considered a major breakthrough for women in sports broadcasting at the time, and still is today, with Liguori maintaining the rights to the programs and hosting, producing, distributing and owning the prime-time series that aired weekly on sports cable networks.
"Total Content Digital is thrilled to be working with Hulu and Ann Liguori to make this incredible sports interview library available for on-demand viewing," says Jay Nader, Managing Partner, Total Content Digital.
"These personalities were insightful interviews and each show is a treasured piece of history," says Liguori. "Sports fans, young and old, will enjoy hearing and seeing their favorite sports legends express timeless stories and anecdotes about their lives and successes. It's very exciting that these interviews are now easily available on Hulu for all to see!"
In addition to hosting, producing, selling and distributing this weekly series, Ann also hosted and produced a weekly series for The Golf Channel (TGC) called 'Conversations with Ann Liguori' which aired the first five years of TGC's inception.
Ann was also the first woman to host a weekly sports call-in talk show on WFAN Radio, the first all-sports radio station. 'Hey Liguori, What's the Story' aired weekly on WFAN beginning with the first weekend the station was on the air in July 1987 to 2008.
Ann is President of Ann Liguori Productions, continues to host the radio version of 'Sports Innerview with Ann Liguori' on peconicpublicbroadcasting.org and is the golf correspondent for both WFAN Radio and CBS Sports Radio Network, covering The golf Majors and the U.S. Open tennis championships. Ann is also the author of 'A Passion for Golf, Celebrity Musings About the Game' and is Founder/President of the Ann Liguori Foundation which raises money and awareness for cancer research and prevention.
# # #
For more information on Ann Liguori and the Ann Liguori Foundation, visit http://www.annliguori.com.
Follow Ann on Twitter: @annliguori
'Like' Ann on Facebook: http://www.facebook.com/annliguori