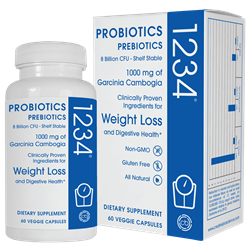 We only provide our customers with the best products, made with premium, all-natural ingredients...
Murray, Utah (PRWEB) January 29, 2015
Creative Bioscience is thrilled to announce that their product, Probiotics 1234 has won Taste for Life Magazine's Best of Supplements Award in the Weight Loss category.
"We only provide our customers with the best products, made with premium, all-natural ingredients," said Ike Blackmon, Executive Director at Creative Bioscience.
About Probiotics 1234
A healthy gut is essential to overall body health. Each person has hundreds of strains of bacteria living in their gut. It is important that there is a sufficient amount of "good" bacteria to help digest food, produce vitamins, regulate hormones and excrete toxins. When someone has too many "bad" bacteria such as yeast or parasites, there can be serious consequences to their health.
Creative Bioscience is about more than just weight loss and that is why they have created their Probiotics 1234. They have formulated a powerful blend of L. gasseri, L. rhamnosus, Bifidobacterium bifidum, and L. acidophilus to provide their customers with the means to a healthy digestive tract. To add a bigger bang to their product, they have also included two prebiotics, Oliggo-Fiber™ Instant Inulin and Fructooligosaccharides. Prebiotics are essential because they act as food for the probiotic bacteria in the gut; they help the "good" bacteria thrive.
They didn't stop there. To provide further weight loss aid to customers, they have added Garcinia Cambogia. Its active compound is the chemical HCA (hydroxycitric acid) which is believed to suppress appetite and block a key enzyme that helps the body turn carbs into fat.
"Here at Creative Bioscience, it's not about just weight loss," says Ike, "it's about providing the means to a healthy lifestyle for our customers. And it's about standing with our customers as they strive toward their weight loss and health goals and then helping them maintain those goals."
Award-Winning Results
Driven by customer feedback, Creative Bioscience's commitment is to deliver the latest designer weight loss and health products without breaking your wallet. When customers choose the premium supplements from Creative Bioscience, they get free, unlimited, 24/7 support from their Customer Support Staff. For more information about Probiotics 1234 visit probiotics1234.com.
Creative Bioscience wants to let the world know what sets them apart from other companies and products in the industry: high quality products with exceptional, unparalleled customer service. The company offers a wide range of products and services designed to provide sustainable weight loss results. For more information on Creative Bioscience and their full product line, please visit creativebioscience.com.
Creative Bioscience and Probiotics 1234 are registered trademarks or trademarks of Creative Bioscience in the United States and/or other countries.
For more information on Probiotics 1234:
probiotics1234.com
###