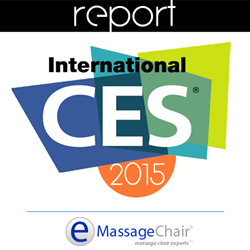 Attendees of CES 2015 have noticed that massage chairs have been gaining more notoriety as people turn to massage therapy for health and wellness
Las Vegas, NV (PRWEB) January 28, 2015
Attendees of CES 2015 have noticed that massage chairs have been gaining more notoriety as people turn to massage therapy for their aches and pains. Brands have also taken notice and are trying to keep up with consumer demand. New brands continue to emerge and legacy brands have been releasing more advanced massage chairs. For shows like CES this is a welcome addition to the electronics tradeshow as attendees are on their feet for countless hours. Making time to try the latest and greatest in relaxation and massage has become a top priority, with many attendees waiting in long lines for a 15 minute therapy session.
Panasonic one of the original pioneers showcased their brand new Panasonic EP-MA73. Several years of R&D went into designing their new top of the line model. A combination of user feedback and more of an emphasis on stretch techniques were used to guide the new design aspects. Panasonic knows how to capture a true massage therapy experience and added many of these experiences to the EP-MA73. Users will notice a smoother lower back massage, a more intense and thorough foot massage that includes heat, and 4 new stretch techniques. The stretch techniques focus on flexibility, posture, and loosening muscles that grow tight from extensive use, like sitting at a desk. The programs are intelligently designed with a warm-up and cool down period, as well as many manual adjustments. The Experts at Emassagechair.com have already reported that this is a top selling massage chair from the 2014 holiday season.
Infinity was also showcasing their new Riage massage chair. Similar in many ways to their Infinity Iyashi massage chair, this chair has a more contemporary look and will be sold exclusively through Brookstone.
Luraco also showcased their new iRobotics 7 massage chair. Luraco has been focusin on R&D for this chair for the last year and will be releasing the new design in Quarter 2 of 2015. Some of the highlights are a more streamlined design with a smaller footprint than their previous model, a 3D massage roller, touch screen remote with a media center, and real leather upholstery on the arms, neck, and ottoman.
Inada who released their Flex3S massage chair in late 2014 didn't have this chair for demonstration. Attendees were able to try the Inada Dreamwave, which has been recently upgraded.
A week later at the Las Vegas Furniture Market, Cozzia Massage Chairs unveiled many of their new products. Their newest model, that is still in development, will have many features that will be the most advanced in the market. Cozzia is focusing not only on relaxation but also usability and user profiles. Their ideas are to make the chairs simple to use but to provide the user with as much feedback from the experience as possible. Their idea is if they can help users of the chair understand more about their specific issues, ailments, or what helps them relax, that they'll be able to help guide people in living a healthier lifestyle.
Another brand called Innovzen showcased their O2Chair. Innovzen plans to tap into the Relaxation through Oxygen and Breathing vertical. Providing relaxation techniques through a recliner and Oxygen is their main focus with a large emphasis on breathing education. Their product is only available for pre-order.
As always CES was a huge success for those looking to be dazzled by all the different kinds of future trends in consumer electronics. This years trends were focused on wearable technology, and its great to see such an emphasis put on digital and wearable health monitoring. There's no doubt that massage chairs, and the convenience of everyday massage therapy, will benefit from this new wave of consumers.
The massage chair experts at Emassagechair.com are excited for the new breakthroughs their seeing in massage technology. They invite anyone who is looking to learn more to contact them directly at 888-360-9996.