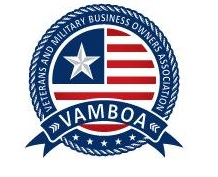 Veterans are 45% more likely to be self-employed than Americans who didn't serve in the military.
Simi Valley, CA (PRWEB) January 28, 2015
For military and veteran entrepreneurs, one of the fastest growing organizations to find and gain access to resources and information is the Veteran and Military Business Owners Association (VAMBOA). VAMBOA is a non-profit military and veteran trade association, promoting and assisting Veteran Business Owners, Service Disabled Veteran Owned Businesses (SDVOB) and Military Business Owners.
Today's transitioning military and veterans are equipped with a unique mindset and assortment of skills. In their post-military careers, these traits may lead many to seek out entrepreneurial ventures, rather than becoming someone's employee.
"Veterans are 45% more likely to be self-employed than Americans who didn't serve in the military," said VAMBOA founder Debbie Gregory. She continued, "Most Americans would be shocked if they knew how big a part these entrepreneurs play in maintaining our country's economy."
More than 2.4 million American businesses are owned by veterans. And data shows that more than 20% of veterans are interested in franchising, or starting their own small business. Veterans also hire other veterans.
But a mindset and an assortment of skills isn't always enough to guarantee success for veteran entrepreneurs. With little to no entrepreneurial experience, veterans who are attempting to become successful business owners need to educate themselves in business, and equip and ally themselves with the right partners and connections. That is why colleges, universities, nonprofit organizations and government agencies across the country are providing academic programs, mentorships, trade associations, partnerships, boot camps, contract opportunities and support networks.
Ms. Gregory has announced that membership in VAMBOA will be provided for those who serve, past and present, at no charge. Membership connects entrepreneurs to the following resources: training and certification, conferences and webinars, member to member exchanges, referrals and discounts, legislative advocacy, potential partners for joint ventures, strategic alliances with private sector franchise opportunity discounts, government agencies, and mentors from leading corporations. VAMBOA's focus is connecting private corporations to veteran and military business owners to meet their diversity supply needs.
Any veteran who owns a business, or is interested in becoming their own boss should join VAMBOA, and become connected to all of the resources available to veteran entrepreneurs.
About VAMBOA
VAMBOA, a 501(c) 6 non-profit organization, has been providing its members with knowledge of government provisions that help service-disabled veteran business owners, Veteran business owners and military business owners since 2010. VAMBOA's mission is to help drive the success of these veteran business owners. VAMBOA also connects it members to contacts within large corporations and government agencies who can mentor members, and in some cases, can even directly provide members with government contracts and vending contracts within large corporations. Membership in VAMBOA is complimentary.