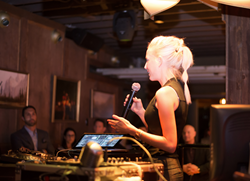 We brought the area's visionary entrepreneurs together with leading investment and business experts so that entrepreneurs would be positioned to achieve even more success in their ventures
Delray Beach, FL (PRWEB) January 28, 2015
Nearly 100 entrepreneurs and investors gathered in Delray Beach on the evening of January 21 to hear about the hottest trends in tech, the current state of the financial markets and how to generate even greater success in business. As a unique, exclusive event bringing together some of the best business minds in South Florida, Smart Up 2015 points to the region as an exciting and innovative center of economic development.
Smart Up 2015 attendees heard from four local innovators:

Jeremy Office, Ph.D., Principal of Maclendon Wealth Management, explained how to be great (BGR8®) in all that you do. Office is a serial entrepreneur across multiple sectors. He founded Maclendon, a boutique multi-family office, and co-founded SJO Worldwide, an early-stage investment fund, to seed entrepreneurs and develop disruptive products.
Galey Gravenstein, Vice President of Goldman Sachs Asset Management (GSAM), spoke about the current state of the market. As part of a long-term consultative approach in gaining partnership with her clientele, she assists with economic forecasts, portfolio construction, personalized value propositions and GSAM mutual fund solutions.
Nabyl Charania, Co-Founder and CEO of Rokk3r Labs, discussed the latest trends in tech. Rokk3r Labs has developed a unique platform where entrepreneurs partner with their internal strategists, creatives and engineers to co-build and launch amazing companies. Since inception, Rokk3r has co-built over 30 portfolio companies that incorporate breakthrough technologies.
Magician Brad Barton shared his unique blend of magic, humor and mind reading. Barton combined magic, psychology, comedy, mentalism and audience participation to create astonishing effects in both his close-up and stage work.
"Entrepreneurs and investors have a different mindset from other people. The same old stale advice and insights won't help them get to where they want to be," said Office, who was the guiding force behind the event. "So I decided to create an event just for them. We brought the area's visionary entrepreneurs together with leading investment and business experts so that entrepreneurs would be positioned to achieve even more success in their ventures."
"The Smart Up event is proof that Delray has reached a new level in its development," wrote attendee and former mayor Jeff Perlman in a recap of the event. "The creative class is here and they are embracing Delray in a big, big way."
Smart Up 2015 was hosted by Maclendon Wealth Management and held at Honey in Delray Beach.
About Maclendon Wealth Management
Maclendon Wealth Management is a boutique multi-family office headquartered in Delray Beach, Florida, built on a foundation of traditional values, sophisticated knowledge and custom-tailored solutions. Founded in 2011, the firm serves as a personal CFO for successful, affluent individuals, families and businesses looking for a dedicated OneTeam® approach and exceptional wealth management services. Maclendon provides a full menu of traditional wealth management services along with more specialized offerings, including non-traditional and alternative investments, venture capital, hedge funds, concierge services and business planning services. To learn more, visit Maclendon.com.
Press Contact:
Alyson Austin
Practice Manager
710 NE Third Avenue
Delray Beach, FL 33444
Telephone: 561.293.3520
Toll Free: 855.MAC.WEALTH
aaustin(at)maclendon(dot)com
Note to editors: Event photos available on request.