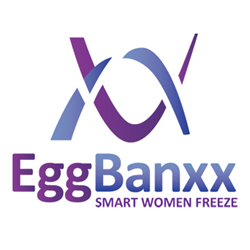 New York, New York (PRWEB) January 28, 2015
EggBanxx is the nation's largest network of elite fertility doctors who specialize in egg freezing. As more and more women delay marriage and children, egg freezing has rapidly gained in popularity.
Tuesday's event featured three leading Reproductive Endocrinologists: Dr. Jaime Knopman of RMA of New York, Dr. Beth Hartog of the Chelsea Fertility Clinic and Dr. Spencer Richlin of RMA Connecticut. Each doctor described what the process entails, what egg freezing is, the factors that impact fertility most, and what to expect during each phase of the egg freezing treatment cycle.
The two-hour standing-room only gathering was hosted by EggBanxx's Chief Medical Officer, and Mount Sinai OB/GYN, Dr. Fahimeh Sasan. Attendees mingled with others who have either been through the egg freezing process themselves or are considering egg freezing in the near future. An EggBanxx patient, Daniella Nuccio, described her personal experience with egg freezing and told the crowd, "It was my decision. I may or may not need them in the future, but I wanted to keep the option of becoming a mother alive." Sasan added, "It's our hope that patients never need their frozen eggs and that they conceive naturally; but, it's nice to have an option if it doesn't go as planned. Egg freezing is not a guarantee, but with the improvements in vitrification and cryopreservation, we're seeing more and more success."
After hearing that the average cost of egg freezing is $15,000, attendees better understood the benefit of purchasing their plan through EggBanxx: the ability to pay up to 15% less by using a fertility doctor in the EggBanxx network, low-interest financing options for those who qualify, and a personal conceirge to assist with scheduling and answering any questions. "We started EggBanxx because we want women to be empowered and educated about their fertility, while providing price transparency and financing to lessen the barriers to fertility preservation," said Gina Bartasi, CEO of EggBanxx. "With more than 165 of the most reputable doctors around the country, we connect women with a physician that fits their individualized needs."
By the end of the evening, after an open-floor Q&A, cycle buddies were made, consultations were scheduled and many women felt more confident than ever. "I was hesitant about coming," said one guest, "but I'm happy I did. I received all the information I needed and feel much more self-assured about moving forward with egg freezing."
Due to popular demand, EggBanxx will be hosting several other "Let's Chill" events including Los Angeles at the Luxe Hotel on February 17th, 2015 as well as Boston at the Liberty Hotel March 24th, 2015. Visit EggBanxx.com/events for upcoming events and information.
About EggBanxx:
EggBanxx.com, owned by FertilityAuthority, is part of a family of websites providing comprehensive, interactive resources and referrals for women and men seeking quality fertility information, as well as tools to simplify the search for trusted fertility doctors or fertility clinics. With more than one million monthly visits, the websites FertilityAuthority.com, FertileThoughts.com, IVFAdvantage.com, EggFreezingCosts.com, EggBanxx.com, and GenderSelectionAuthority.com— along with a staff of patient care coordinators — assist in making the important connection between patients and the physicians who can assist them in their family-building efforts.
Media Contact:
Robin McCarthy, Senior Vice President of Marketing
Robin(AT)EggBanxx.com
646-350-0748