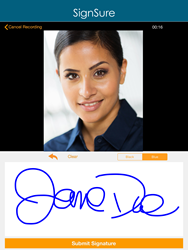 (PRWEB) January 28, 2015
The SignSure mobile application for iPad is now available on the Apple App Store. In this first version, SignSure provides many powerful tools to help small to medium sized businesses manage document signing, storage and delivery. Unlike most of its competitors, SignSure includes all of the features and control through the application on a mobile device.
SignSure provides you the ability to sign and send documents for signature from your tablet. Documents can also be opened from an email you receive or downloaded from a cloud account. In addition to their signature, signers can enter text, date and check marks during the signing process. Each document is saved in the SignSure Document Management System, which organizes your work into drafts, current activity and completed activity. The Document Management System (DMS) also allows you to create folders to further sort your completed work. All documents can be emailed or printed conveniently from the DMS. In addition, SignSure provides subscribers unlimited use of tools including templates, SignSure Forms, expiration of offer and video verification. SignSure's video verification feature gives you the option of capturing video and audio of the signer as they enter their signature. Future versions of this patent pending video verification system will provide the most certain authentication of the signer available in the market. "Most of the available electronic signature applications are really designed for large companies or a specific industry" says David C. Ruma, President and Founder of SignSure parent LAD Verification Services, LLC. "SignSure provides more features and control directly from the application at a lower price than the competition, and for the first time you can receive video of the person signing your document as well as any audio instructions or confirmations that help validate and complete your document. It's the ideal solution for any small to mi-sized business."
SignSure is available for iPad, with iPhone, Android tablet and Android phone versions coming soon.
Limited use of the SignSure application is free. SignSure Premium subscribers enjoy unlimited use of all features available on the application and there is no limit to the number of documents that can be signed or sent for signature. SignSure Premium users are also provided up to 2GB of storage on the SignSure server. The cost of the SignSure Premium subscription is $4.99 per month, or $47.99 if paid annually.
Visit http://www.SignSure.com for more information
LAD Verification Services, LLC is the company behind the SignSure application. LAD was founded in 2013 and is based in Hilliard, Ohio.
For more information, contact:
LAD Verification Services, LLC
c/o Marketing and Information
info(AT)signsure.com