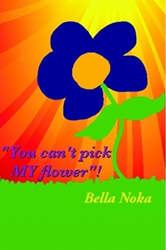 "This book is a balm for that hurt, a pause to reflect on how we can take personal responsibility for our beliefs, perceptions and take action to change an outcome, one flower at a time."
Wood River Junction, R.I. (PRWEB) January 28, 2015
Author Bella Noka addresses issues of bullying and low self-esteem using artwork and simple text to convey a message of hope and resilience in her new book, "You Can't Pick My Flower" (published by Lulu).
"Bullying is increasingly dominating the headlines," Noka says, "and I wanted to add an alternate narrative that would help make a difference if we are to effect real change in this important challenge in our society."
Accompanied by full-color photographs of flowers and original artwork from elementary students, "You Can't Pick My Flower" seeks to uplift and inspire with a selection of short, positive affirmations. Noka also includes recent bullying statistics to stress the impact that this behavior has on young people everywhere.
"Bullying in many forms is pervasive, destructive and deeply scarring," Noka says. "This book is a balm for that hurt, a pause to reflect on how we can take personal responsibility for our beliefs, perceptions and take action to change an outcome, one flower at a time."
An excerpt from "You Can't Pick My Flower":
"Bella shares her heart of compassion on the subject and takes her place as a determined champion for the dignity and special place all flowers deserve in this great big garden we all share. Let's commit together to tend the soil with love and happiness, water generously and protect our precious beautiful flowers."
"You Can't Pick My Flower"
By Bella Noka
Hardcover | 6 x 9 in | 34 pages | ISBN 9781483414324
Softcover | 6 x 9 in | 34 pages | ISBN 9781483407852
E-Book | ISBN 9781483407869
About the Author
Bella Noka lives and writes in Wood River Junction, Rhode Island.
Lulu empowers people of all ages to explore and express their interests, passions and expertise through books, photography and art. Since introducing self-publishing in 2002, Lulu has empowered creators in more than 225 countries and territories to produce nearly two million publications. Lulu Jr. allows children to become published authors, encouraging creativity, strengthening literacy and building self-esteem. Picture.com offers professional photography of collegiate and professional sports, memorable and historic events, fine art and home décor. For more information, please visit lulu.com.
###