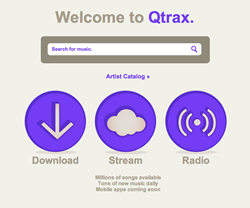 It's time songwriters and artists became owners of digital music services rather than exploited providers of content.
New York, New York (PRWEB) January 28, 2015
QTRAX, the free and legal digital music service, announced today a wide ranging plan to compensate songwriters and artists in a more lucrative and representative manner. The details are available in an extensive, detailed report commissioned by Qtrax and authored by one of the Big Four accounting firms.
The Artist Manifesto (see on http://www.qtrax.com) is effectively an Artist Bill of Rights with a sweeping set of initiatives that provide artists with far more input and control and compensates them fairly, respectfully and innovatively. The key initiative of the Manifesto is the concept of awarding an interest in Qtrax to artists and songwriters equivalent to an equity stake of 30%. This equity allocation is being enshrined in a legal entity called the Artist Trust which will be administered independently by a Publishing Rights Organization which is currently being selected.
Artists will share in the profits and future growth of QTRAX and benefit from any liquidity event such as an IPO or trade sale, in precisely the same way investors and management accrue wealth.
The 30% Equity allocation will be divested over a 10 year period following the liquidity event and proceeds will be distributed to artists and songwriters based on the number of plays.
"Equity is the only real pot of gold from any of these digital music services, including our own. Songwriters and artists are being shamefully compensated with ridiculously meager distributions while the value of some digital music services escalates to multi-billion amounts. Without the creative work of artists there can be no music services. None. An obvious fact but one that is not respected in the current economic structure. It's not a question of laying blame. Perhaps it can't be correctly attributed. But no amount of congressional pondering is going to alter the rates significantly enough. The base is so low that even a handsome percentage increase will not be good enough. Record companies were wise enough to request equity from music services. The songwriters and artists were not appropriately organized to do so. It's time they became owners of these services rather than exploited providers of content. We invite all digital services, existing & in the future, to similarly contribute equity to the Artist Trust to be run entirely for the benefit of Songwriters and Artists under an esteemed Board of music industry leaders. Distribution of proceeds from equity post-IPO will provide substantial income to artists and songwriters" said Allan Klepfisz Founder and CEO of Qtrax.
"As QTRAX builds towards a liquidity event over the next 2-3 years money can be contributed into the Artist Trust in the form of advertising and sponsorship dollars by brands that believe in the power of music to connect with young consumers" said Lance Ford President and CMO of Qtrax.
ABOUT QTRAX:
QTRAX (http://www.qtrax.com) is a unique and emerging player in the digital music industry that will be launching its newly upgraded Next Gen "Free and Legal Music Service in Q1, 2015. Qtrax is already available in 68 countries.
For more information:
Julia Lyschik (Chief Operating Officer, Qtrax Inc.), julia@qtrax.com; +1 (646) 678 4542