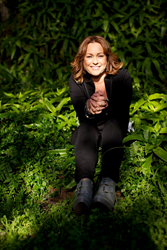 It's really exciting that Dragon's Den has brought such great publicity to a pervasive issue for women
(PRWEB) January 30, 2015
According to UK newspaper the Telegraph (January 27), hit UK TV show Dragon's Den has put the spotlight on the issue of high heels sinking in grass.
http://www.telegraph.co.uk/finance/businessclub/11368902/Stiletto-protector-Clean-Heels-wins-Dragons-Den-funding.html
As well as providing a boost to the company, the episode, aired in the UK on Monday, January 26 also highlights the huge business opportunity for intrepid companies like Starlettos that have attractive solutions to that protect heels at weddings and outdoor events.
"It's really exciting that Dragon's Den has brought such great publicity to a pervasive issue for women. It's not just annoying - it's expensive when your beautiful high heels get ruined at a wedding or event because you have to walk on grass. With more and more couples are choosing outdoor locations more and more people are experiencing the problem."
It is clear that the Dragon's Den expert investors have seen the potential of this market. There are shoe shops and department stores on every high street in every city and every suburb in the world. In the U.S alone more than $6bn is spent every year on ladies shoes.
"Heel protectors have a real and unique selling proposition in this market and as buyers become aware of the product, this will unlock significant value for companies servicing the market."
With their patented floral-star design Starlettos in particular have been created to recognise that, when it comes to shoes, visual appeal plays an important part in a customer's buying decision. Starlettos are targeted towards shoe-lovers and often purchased for weddings and marquee events where they are used to protect beautiful and sometimes expensive shoes. They don't just protect heels though. Used on hard wooden floors their function reverses and it's the beautiful polished wood that benefits.
Ilde has no plans to seek an investor for Starlettos at this stage, preferring to grow the business via entering new markets and taking advantage of all the available channels. "We've seen enormous growth in the last 12 months with a combination of increased awareness, greater acceptance and access to new, faster delivery channels online."
2015 will be another big year with Starlettos sales already well ahead of last year's figures and some big partnerships in development for announcement later in the year.