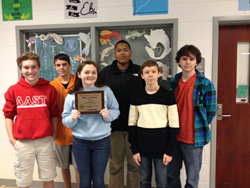 Myrtle Beach, SC (PRWEB) January 29, 2015
Freshman students from the Science, Technology, Engineering and Mathematics (STEM) program at the Academy for the Arts, Science, and Technology (AAST) in Myrtle Beach, South Carolina won Best in State among 308 entries in the 2015 Verizon Innovative App Challenge.
Team members Katie Mann, McGee Dunn, Dylan Wilkins, Zach Floyd, TJ Leisher, Jalen Garner, and Connor Coan developed the application concept for Power Presenter, which earned top points for its creativity, innovative design, and application of STEM principles. Power Presenter addresses the common fear of public speaking with key features of a video recorder, teleprompter, and a timer. The video recorder "beeps" when a speaker stutters, displays long silences, or utters audible pauses such as "um" or "uh". The teleprompter helps presenters read materials clearly. The timer keeps the student on track to keep the presentation within an allocated time frame. Students attending the STEM program are frequently called upon to make public presentations for project-based learning. The Power Presenter app helps to develop and refine public speaking and presentation skills.
As the winner of Best in State, the school team participated in the live, interactive Google Hangout with the Massachusetts Institute of Technology's (MIT) "Bionic Man", Hugh Herr.
In 2011, TIME magazine coined Herr the "Leader of the Bionic Age" due to his work in the field of biomechatronics–technology that marries human physiology with electromechanics. Currently, as Director of the Biomechatronics Research Group at the MIT Media Lab, Herr is pioneering a new class of biohybrid smart prostheses and exoskeletons to improve the quality of life for thousands of people with physical challenges.
To learn more about Professor Herr view his TED talk at https://www.ted.com/speakers/hugh_herr.
About Horry County Schools
Horry County Schools is inspiring possibilities for student success through a broad range of unique teaching and learning opportunities.
The countywide school district encompasses 51 schools in the nine attendance areas of Myrtle Beach, Carolina Forest, Conway, Socastee, North Myrtle Beach, Loris, Aynor, Green Sea Floyds and St. James. Horry County Schools, with more than 42,000 students, is South Carolina's third largest school district. To learn more about Horry County Schools visit http://www.horrycountyschools.net