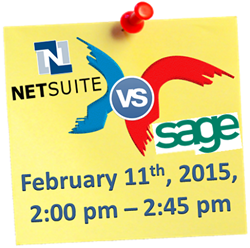 "There's no right or wrong solution. We work to establish what best fits a growing client business needs." - BrainSell President Jim Ward
Topsfield, MA (PRWEB) January 28, 2015
According to Gartner, by 2018, at least 30 percent of service-centric companies will move the majority of their ERP applications to the cloud. As a leading ERP solution provider, BrainSell has recognized the need to strengthen their cloud offerings while maintaining a strong on-premise practice. As a result, they will compare their most popular cloud and on-premise offerings; NetSuite and Sage ERP during a webinar on February 11th, 2015 at 2:00 pm.
BrainSell consultant Debbi Silberberg will represent NetSuite (cloud solution), while Fellow BrainSell consultant Avron Katz will represent Sage ERP (on-premise solution). During the 45 minute webinar, Silberberg and Katz will detail many of the most important comparison points in cloud and on-premise ERP software by demoing NetSuite and Sage ERP.
Join BrainSell's webinar here:
http://nrforms.brainsell.net/NetSuite_vs_Sage_ERP_Webinar_February_11th
On-premise solutions still represent the vast majority of ERP installations and still have certain advantages that won't make on-premise obsolete anytime soon. That being said, more and more businesses are trusting cloud-based systems with SaaS-based subscription models for their ERP/accounting needs.
"We're definitely getting over the hump when it comes to trusting cloud-based accounting platforms," said BrainSell's President Jim Ward. "On premise installations aren't going anywhere anytime soon. We do however, see more and more of our largest clients bringing their books into the cloud. Also being a CRM (Customer Relationship Management) solution provider, 95% of our sales are cloud solutions. There's no right or wrong solution. We work to establish what best fits a growing client business needs."
Sage ERP has been a leading provider of on-premise solutions for over a decade. NetSuite, on the other hand, has rapidly risen to the upper echelon of cloud ERP solutions and is quickly becoming BrainSell's go-to cloud deployment option.
For more information on joining the upcoming webinar, view BrainSell's blog article here:
http://www.brainsell.net/blog/2015/01/netsuite-vs-sage-erp-2015/
As one of Sage's top-tier partners, BrainSell's ERP Practice Manager, Kellie Pitt, sees even more potential to make impartial decisions for her clients with the ability to point to a true cloud solution. "We maintain a high level of objectivity here at BrainSell," said Pitt. "Being able to point to the best-in-class on-premise and cloud solutions gives us even more options to deploy the best choice for our client's businesses."
Having implemented hundreds of ERP projects, hosts Silberberg and Katz will be able to detail the ins-and-outs of NetSuite and Sage.
During the webinar, BrainSell consultants Debbi Silberberg and Avron Katz will detail:

What's new in NetSuite and Sage ERP
Differences between cloud vs. on-premise
Pricing Structure
Software Architecture (JavaScript? SQL?)
Best Integrations and plugins for each platform
General overview of the user interface
As part of their suite of services, BrainSell provides additional services apart from NetSuite and Sage ERP consulting and implementation. BrainSell is a full-service CRM consultant and has relationships with Salesforce, SugarCRM, Infor, Microsoft and Act! CRM.
In addition to NetSuite, Sage ERP and CRM products, BrainSell is also certified in the implementation of these additional ERP offerings:
QuickBooks Enterprise
Microsoft Dynamics GP
About BrainSell
BrainSell is a business solutions company that is dedicated to helping businesses grow, create a delighted customer base and achieve grand success. BrainSell provides comprehensive ERP, CRM, and marketing automation solutions and services, including training, implementation and software development. Founded in 1994 and headquartered in Topsfield, Massachusetts, BrainSell continues to grow in product knowledge and offerings.