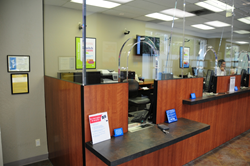 Anaheim, California (PRWEB) February 03, 2015
Pacific Bulletproof Co. is proud to introduce a brand new modular bullet resistant counter. This modular counter sets a new standard for bullet resistant technology. This is the first modular bullet resistant counter system designed specifically to be a complete bullet resistant unit. Pacific Bulletproof has also improved the look by eliminating the unsightly aluminum channel and top mount deal trays found in most bandit barriers; giving the counter a modern aesthetic look. It meets LEED guidelines and qualifies for LEED credits. It is easy to assemble and relocate, and is certified to California seismic requirements. This counter can be designed for banks, credit unions, pharmacies, Government and retail facilities, simplifying the implementation of bullet resistant technology.
As we enter into a new age of technology, we are seeing kiosk upgrades in many financial departments. This counter system simplifies the design, project management, and implementation of highly effective security, while helping clients streamline the whole process. It can also be easily moved as branches close or relocate, saving the client up to 90% over purchasing a new counter at the new location. In order to increase brand name awareness for each institution; we match design schemes to fit each company's brand. The design can easily be changed to fit an existing or potential color scheme.
Located in Anaheim, California; Pacific Bulletproof Co. has over twenty-four years' experience in the field of security consulting, design, manufacturing and installation of highly effective physical security products. These products include but are not limited to bulletproof windows, bullet and forced entry resistant glass, and highly effective security doors. Pacific Bulletproof also specializes in security risk assessments as well as corporate and residential security. For more information about Pacific Bulletproof Co. or any of the products or services, please feel free to call toll free at: 888-358- 2309 or check out the website at: http://www.pacificbulletproof.com.
Media Contact:
Jim McCarthy
jim(at)pacificbulletproof(dot)com
(714) 630-5314
http://www.pacificbulletproof.com